Reports
Annual Noise Reports
The Airport Authority publishes an annual noise management report. This report outlines what initiatives we're doing to help minimize noise impacts and provides information on noise monitoring data, operational statistics and noise concern summaries.
2022 Annual Noise Report
In 2022, while some sectors of air travel showed signs of recovering from the impacts of the COVID-19 pandemic, the aviation industry faced various challenges meeting the demand for travel. As air traffic continues its recovery, the Airport Authority remains committed to managing noise from aircraft and airport operations. Highlights of noise management activities in 2022 are summarized below. Aircraft movements and passenger traffic at YVR in 2022 increased over last year as global COVID-19 restrictions were relaxed. Compared to 2021, total aircraft movements and passenger traffic went up by 56% and 168% respectively.
In 2022, the Airport Authority received 2,183 noise concerns from 130 individuals across the Greater Vancouver area, which has a population of 2.6 million. This represents a slight increase in the number of concerns and individuals compared to 2021.
For further information on noise management activities, operational statistics, noise concerns, and noise monitoring data, please view the full report.
Figure A – Historical trend of annual aircraft movements and passengers at YVR for the period of 1996-2022.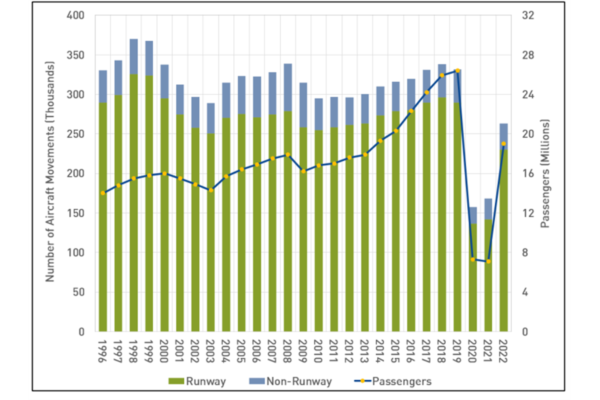 Figure B – Number of Concerns and Individuals, 2018 – 2022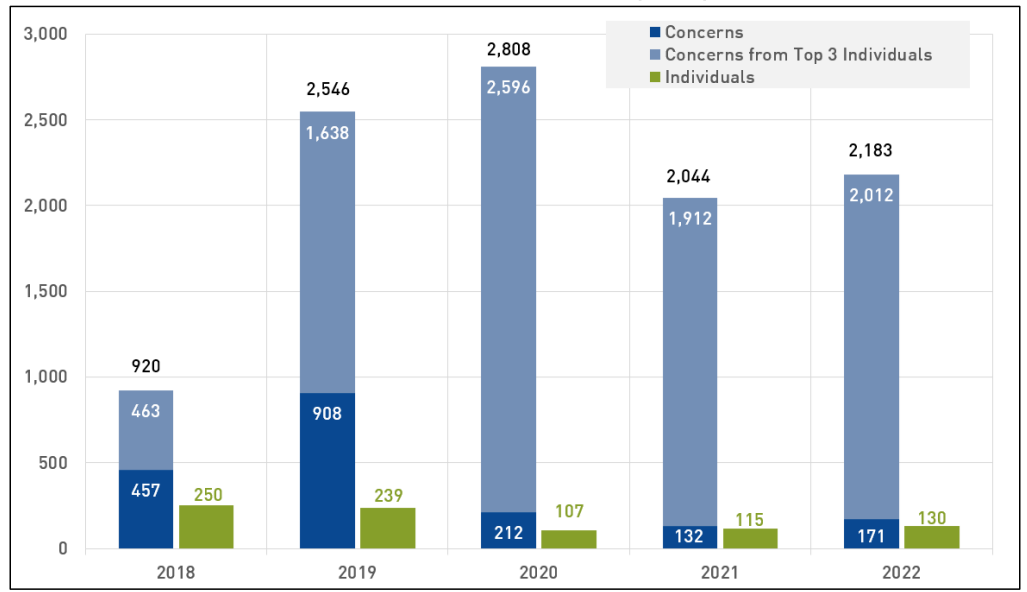 Previous Annual Noise Reports