Porter Services
Porter Service (fee for hire service/user pay) is available at the curb and in the main terminal to help with your luggage or help manage your group.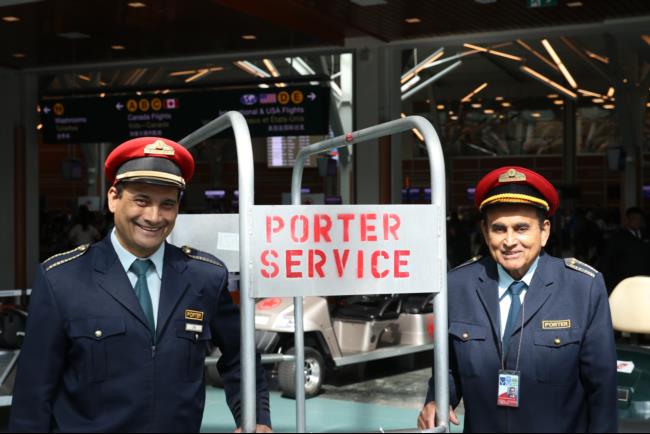 Hours of service: 05:00-24:00
Available on all arrival and departure areas
On a first-come, first-served basis
Porter Service includes the movement of luggage from the luggage arrival carousal to vehicle curbside loading area and/or from the curb to the airline check-in counter
Vancouver Skycap Porters are an independent and licensed Porter Service company independent of the Airport or Airlines.
If you have any questions or concerns please do not hesitate to call: 604-834-5916 or 604-830-7655.
Posted FeeRates (available from the porter and posted on the porter carts):
$10.00 flat fee for up to three (3) items
$2.00 for each additional item
NOTE: Moving pets will be an extra $20 per each pet crate.
(Tipping is optional)
Additional $5.00 for:
Moving baggage from International Arrivals to Domestic Departures
Moving baggage from International Arrivals to Car parkade
Moving baggage from Domestic Arrivals to International Departures
Moving baggage from International arrivals to Rental Car pick-up offices
GROUPS AND CONVENTION RATES:
International/USA Arrivals in Canada Customs Hall or Domestic Arrivals - $3.00 per piece

To hold signage and gather passengers in Canada Customs Hall, Domestic Arrivals and International / US Departures - $20.00 per hour or flight
Note: If there are more than fifty passengers arriving at the same time or if there are passengers arriving on multiple flights simultaneously, more than one porter will be required

Domestic, US and International Departures - $3.00 per piece
All prices are in CAD Canadian dollars. USD currency is also accepted.
NOTE: Receipts including Porter contact information provided upon request.
Email: [email protected]