Travelling with Children
Travelling with children doesn't have to be overwhelming. Follow these YVR travel tips to help you prepare.
Check-in
Confirm your itinerary and reservations with your airline and check baggage quantity and weight specifications. Check your flight status online or sign up with our flight notification tool to have information about your flight sent directly to your mobile phone or email.
Passports & ID
All children who travel need their own ID, whether travelling abroad or within Canada. Check with your airline and view Passport Canada's travelling with children information.
Packing & Security
Adults, infants and children must undergo security screening prior to boarding an aircraft. Formula is allowed for those travelling with infants, along with certain exemptions to the liquids and gels regulations. To learn more about what is permitted, please see the Canadian Air Transportation Security Authority's website or contact them at 1-888-294-2202.
Baggage
Baggage allowance limits are set by the individual airlines. Check with your airline to find out how to transport your luggage, car seats, and strollers. Free baggage carts are available to help you move through the terminal.
Strollers
Strollers may be permitted on your flight. Most airlines prefer an umbrella-type stroller, so please check with your airline's infant policy before arrival.
Facilities in Terminal
See a map of the airport to find washrooms, food courts, security and Customer Care counters.
Washrooms
Male, female and private, single stall washrooms are available throughout the terminal. A changing station is located within every washroom.
Nursery
A nursery room equipped with a changing area is available:
Before Security:
USA Departures Level 3 (check-in area, next to Lost and Found)
Hours of Operation: 0300 to 2030. Please contact Airport Operations should you require access outside of these hours by calling 604-207-7077 or picking up the nearest courtesy phone.
After Security:
International Terminal (near gate D60)
USA Terminal (near gate E77)
Assistance
Keep an eye out for our friendly Green Coat volunteers, stationed through the airport to help you with any questions. Contact us to reach our 24-hour Customer Care team for any additional questions.
Things to Do
Children's Play Areas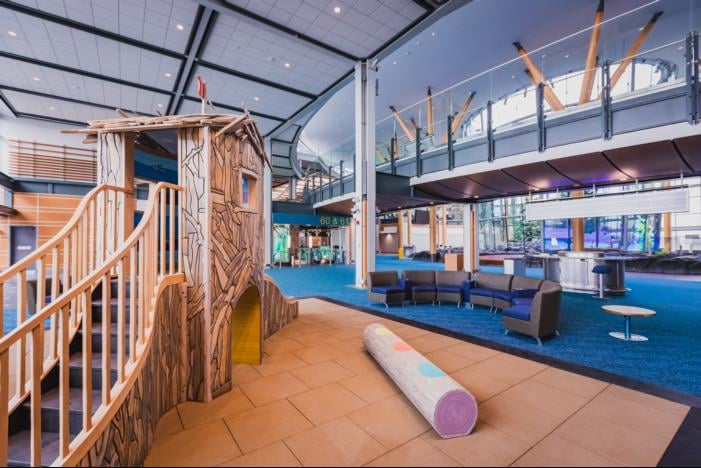 If your kids need to burn some energy before your flight, visit one of our Children's Play Areas located throughout the terminal.
Public Observation Area
The Public Observation Area, located before-security in the Domestic Terminal, Level 4, provides sweeping views of the airfield, telescopes, maps and kiosks.
Aquarium
A 114,000-litre aquarium can be found after-security in the International Terminal. With over 5,000 marine creatures native to British Columbia living in the tank, your kids could spend hours pointing out the Wolf Eels, Sea Stars, Sea Urchins and 21 different species of fish.
Pier D Digital Experience
As passengers move through Pier D, they can expect to engage with the sights, sounds and stories of British Columbia, capturing the attention of kids and adults alike.
A true sense of place is experienced through multi-layered technology that is both immersive and provides a sense of augmented reality. By way of a digital experience, inclusive of multi-layered displays, projections, interactivity, sound and video, there are stories told from environments across the province.
As an example, the experiential audio you will hear when moving through the space has been recorded by local sound engineers of the actual species living in the wild. If you're flying after dark, you're in for a special treat - the trees and rocks in the atrium are activated with a series of stories using digital projection mapping and a corresponding soundscape.
WiFi & Charging Stations
Free WiFi is available throughout the terminal for your use. Charging stations are also located throughout the terminal to keep the battery full & idle hands busy.