Accessibility at YVR
One of YVR's top priorities is providing an accessible airport for everyone.
Customer Care and Information
Our 24-hour Customer Care is available by phone at 604.207.7077, TTY/(TDD) 604.207.7070, by email at [email protected], or on Twitter @yvrairport

Our dedicated Customer Care staff and Green Coat volunteers are here to help. You can find representatives, wearing distinctive blue or green jackets, at our Customer Care counters.
Accessible Transportation
Canada Line rapid transit, city bus service and taxis serving YVR are all accessible to people using wheelchairs and can accommodate a non-folding or non-collapsible mobility aid as well as other walking aids. Visit the Getting to and from YVR page for more information about transportation options.
Curbside Assistance
Curbside Assistance is available from outdoor curbside areas to indoor check-in areas and is arranged through our 24/7 Customer Call Centre. Assistance is also available from the general public area inside the terminal to curbside areas outside. This service includes assisting customers with their wheelchair or mobility device, their baggage and providing any other mobility or guidance assistance.
YVR has designated Curbside Assistance drop-off and pick-up areas at the curb serving the Main Terminal and the South Terminal.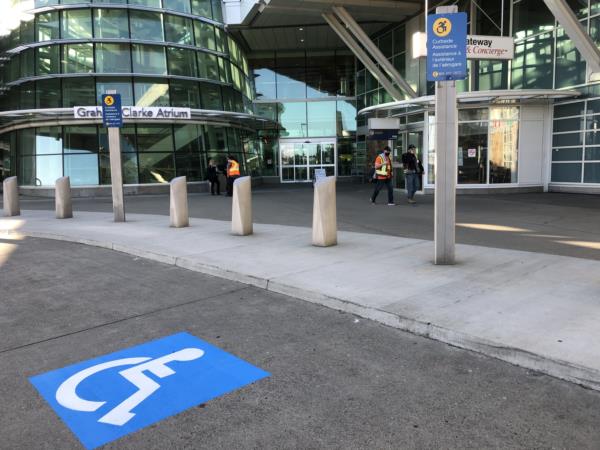 For passengers travelling to destinations in Canada, the United States or International, the Curbside Assistance drop-off location is located near the Graham Clarke Atrium.
For regional passengers travelling to destinations from the South Terminal, the Curbside Assistance drop-off location is at the main curbside area, between the Shuttle and Taxi drop-off stands.
Customers are encouraged to pre-arrange Curbside Assistance up to 48 hours in advance through our 24/7 Call Centre by phone 604.207.7077, TTY/(TDD) 604.207.7070, by email at [email protected]
Moving Through the Terminals
Passengers wanting assistance to and from the boarding gate, as well as with boarding or deplaning an aircraft, are encouraged to advise their airline when making travel arrangements — at least 48 hours prior to travel. A complete list of airlines serving YVR is available on our website. Upon arrival, speak with your airline representative for assistance. Additionally, YVR Customer Care counters offer short-term use of self-push wheelchairs in the public areas of the airport.
In addition to booking assistance directly with the airline, in certain circumstances some Domestic airlines may issue a gate pass to a non-passenger to escort the traveller who needs assistance through pre-board screening and to their departure gate. This policy may vary for each Domestic airline and we encourage passengers to contact their airline at least 48 hours prior to travel for more detailed information. Please note: if a gate pass is authorized, the individual escorting will be required to present a valid government photo I.D. and will also be subjected to passenger pre-board screening.
Travelling to or from the Main terminal to the South Terminal? The South Terminal Shuttle resumed operations and includes stops at the International Terminal, Domestic Terminal, South Terminal and Floatplane dock. Visit To Airport South for pick-up locations and schedule information.
Wheelchairs
Passengers wanting assistance to and from the boarding gate, as well as with boarding or deplaning an aircraft, are encouraged to advise their airline when making travel arrangements — at least 48 hours prior to travel.
Self-push wheelchairs are available for our customers at any time. You can find the distinctive blue wheelchairs throughout the terminal at any Customer Information Counter.
Autism Travel Resources
YVR has partnered with Canucks Autism Network (CAN) to develop a resource kit and video series to assist individuals on the autism spectrum and their families. These resources help individuals and families prepare for their upcoming trip, covering the check-in process, security screening, boarding and flying. Travel resource kits are available at all pre-security YVR Customer Care counters and can be downloaded below.

Resource Kit and Video Series
Hidden Disabilities Sunflower Program
Vancouver International Airport is proud to offer the globally recognized Hidden Disabilities Sunflower Program to support passengers with hidden disabilities, also known as invisible disabilities. The Sunflower logo aims to assist those travelling with invisible disabilities who may need a little extra patience, care, and assistance during their travel experience.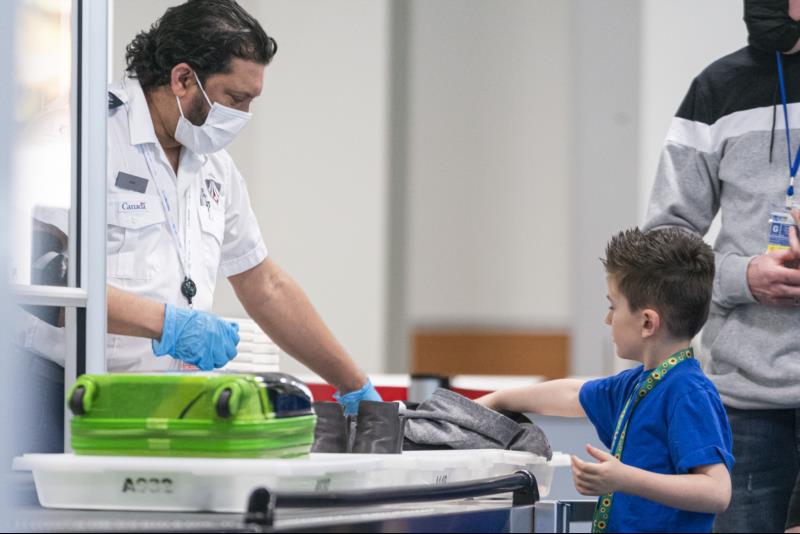 HOW DOES THE PROGRAM WORK?
If you or someone you are travelling with has an invisible disability, such as autism, chronic pain, epilepsy, low vision, hearing loss, dementia, anxiety disorders, brain injuries, and many more, you may choose to wear the Sunflower lanyard as a discreet way to indicate to our airport staff that you may need a little more help or time when going through the airport processes. Wearing the Sunflower lanyard is voluntary. The Sunflower lanyard provides a helpful identifier to airport staff to best assist and supports anyone with an invisible disability.
SUNFLOWER LANYARD PICK UP LOCATIONS:
You can pick up a free Sunflower lanyard (or sticker) from our Customer Care and Information counters at the Main and South terminals.
Can't find the information counters or have any questions? Please call our Customer Information Line at 604-207-7077, TTY/(TDD) 604.207.7070, or by email at [email protected].
If you require assistance during your flight, the airline will be in the best position to assist you, and you should continue to request special assistance services from your airline.
Please note that this program does not allow for special treatment or expedited security screening but is a reminder to airport staff to show extra compassion, allow time for additional assistance, and let those travelling with these hidden disabilities feel comfortable and confident.
Aira
Aira is a service that connects individuals who are blind or partially sighted to trained agents who, through an app on a smartphone or video-equipped smart glasses, video conference in to help the user navigate their environment.
Aira access is free at YVR with unlimited usage.
Signing up for Aira is easy. Start the process on the Aira website here: Download the App, or you can download the Aira App directly on your mobile phone from Google Play or the Apple App Store. Aira is a third-party application and use will be governed by its own terms and conditions and privacy policies.
For additional information, user support and answers to any questions, please contact Aira directly on their website or through their toll-free line at 1-800-835-1934.
Washrooms
Washrooms at YVR are accessible to customers using wheeled mobility devices and include consideration for people with vision or hearing impairments. Washroom features include screen walls in place of doors (except private, single stall washrooms), automated faucet, soap, and paper towel dispensers, accessible toilets in both the main pubic washrooms and private, single stall washrooms, universally accessible sinks, an emergency call button adjacent to all accessible toilets and baby-change facilities. Adult dimension change tables are also available before security in the USA Departures area and after security in Domestic, International and USA Departures.
Before Security
USA Departures level 3 (check-in area, across from check-in counter 276)
After Security
Domestic AB pier (near gate B14 and across from Stanley Park Taphouse restaurant)
Domestic/International departure swing gates area (near gate C52/D52)
International departures area (near gate D72)
USA departures (across from gate E87 and near Starbucks)
International arrivals area on level 4
Assisted Changeroom – Changing Places
Located at post-security at Pier D between gates 58 and 62.
The Assisted Changeroom – Changing Places washroom benefits passengers with a wide range of physical disabilities who often need extra equipment and space to allow them to use toilet facilities safely and comfortably. The washroom has extra features and more space to meet the needs of people who use them. Our Changing Places washroom provides:
Height-adjustable adult-sized changing bench (max weight: 175 kg / 386 lbs.)
Tracking Hoist System (max weight: 374 kg / 825 lbs.)
Adequate space in the changing area for persons with disability and support person
Toilets (standard with raised pan and back support)
Fold-down support arms and vertical grab rails
Accessible sink and paper towel dispenser
Privacy screen
Passengers need to bring their own sling and should consult the weight restrictions of their sling.
Changing Places are free to use and do not need to be pre-booked. There is a sign adjacent to the facility with an intercom to call to gain access.
Nursery
A nursery room equipped with a changing area is available:
Before Security
USA Departures Level 3 (check-in area, next to Lost and Found)
Hours of Operation: 0300 to 2030. Please contact Airport Operations should you require access outside of these hours by calling 604-207-7077 or picking up the nearest courtesy phone.
After Security
International Terminal (near gate D60)
USA Terminal (near gate E77)
A changing station is located within every washroom.
Animal Relief Area
Passengers travelling through YVR with a pet or service animal can now find pet relief areas pre-security, and post-security on all piers without having to exit and go outside.
Pre-Security:
Outdoor pet relief areas pre-security are located outside Internationals Arrivals at the entrance to Chester Johnson Park and at the South Terminal Building (STB) across from the north entrance.
Post Security:
We have six full-service Pet Relief Areas post-security at YVR on the A/B, C, and D piers, as well as at the South Terminal. The relief areas are available for any passenger travelling with pets or service animals.
Locations:
A/B Pier: Across from the play area, before Starbucks

C Pier: Across from Gate C29, right of the washrooms in the alcove

D Pier: Across from Gate D72, near Gates 76 and 77, and between gates 58 and 62

STB: Gate G1-2, by the vending machines in the corner
Can't find an animal relief area or have any questions? Please call our Customer Information Line at 604-207-7077.
Public Telephones
Accessible public telephones, including TTY (TDD)-equipped units, are located in each bank of public telephones at YVR around the terminal. To locate a public or courtesy phone, please ask a Customer Care representative or Green Coat volunteer for help.
Paging
Audio and visual paging services are available at YVR. To request a page, please visit any Customer Care counter, or call 604.207.7077; TTY / (TDD) 604.207.7070. Visual paging monitors are located at our Customer Care counters, Flight Information Display and Departure Gate screens and Baggage Information Display screens.
---
Feedback
For more information, or to provide feedback, please contact us. A customer service representative will respond promptly.
Direct: 604-207-7077
TTY (TTD): 604-207-7070
Email: [email protected]
---
YVR is committed to providing a smooth and seamless airport experience for everyone. We are subject to
Canadian Transportation Agency
regulations and work hard to meet and exceed provisions to deliver an enjoyable travel experience.
YVR is subject to the Accessible Transportation for Persons with Disabilities Regulations (ATPDR) and the provisions of these regulations that apply to it. Under the act, our obligations are to the following sections:
Part 1: Requirements Applicable to Transportation Service Providers
Sections 4, 5, 6, 7, 8, 9, 10(2), 11, 12, 13, 14, 15, 16, 17(a), (b), (d), (e), 18, 19(1)(2)(a), (b), (f), 20, 21, 22 and 23
Part 4: Requirements Applicable to Terminal Operators
Sections 212(a), 214, 215, 216, 217, 218, 219, 220, 221, 222, 223, 224, 225(1)(2)(a), 226, 227, 228, 229, 230 and 231