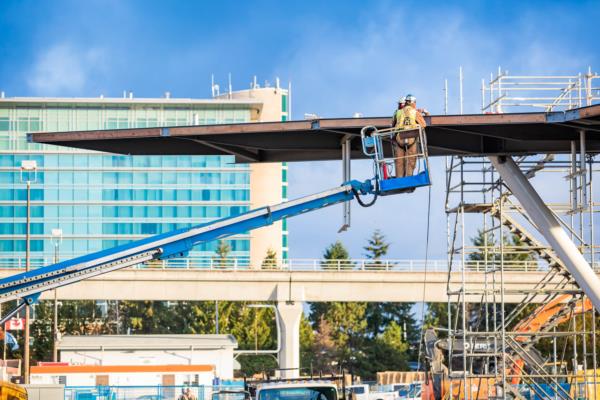 There are several key projects currently taking place that will enhance the airport experience. This includes our biggest sustainability projects to date, new parking options, terminal expansions and much more. This is all possible due to our unique operating structure. The multi-year expansion project currently underway will help YVR meet growing passenger demand and better connect British Columbians and local businesses to the world, while improving the airport experience for everyone.
Terminal
There may be intermittent noise at U.S. check-in, U.S. pre-board screening area as well as U.S. Customs during daytime hours. This work is being done to improve our processes for transfer passengers.
Construction for a new entrance to gate E85 is underway. Once complete in March 2020, it will connect passengers from Level 3 to the Level 2 remote stand operation (RSO) facility. This work includes the addition of new elevators and escalators.
As construction begins on a number of YVR's new food and beverage and retail options, passengers can expect to see various hoarding around the terminal.
As part of the International Pier D expansion project, various work is taking place. This will take place airside and may include noisy work. Given that there are 24-hour operations in this part of the terminal, YVR understands that this could potentially be disruptive for those with flights at nearby gates. If you are looking for somewhere quiet, you can find seating in the creek area, near the food court.
Construction continues near Transborder check-in to make several enhancements to the area. Work will include replacing the check-in kiosks with the newest model, movement of an HVAC unit, relocating the information counter and some other minor updates.
There is hoarding around a small section of the Domestic food court to prepare for the installation of a new centralized food court station.
Passengers travelling internationally will see ceiling scaffolding in the security screening area. This work is being done to prepare for the construction of a new passenger bridge.
In and Around Sea Island
Construction continues on YVR's new Parkade and Central Utilities Building. This includes work around the old Value Lot off of Grant McConachie Way, as well as within the existing Parkade. There are various traffic control measures in place, for cars arriving and departing from the terminal near this site. Please follow all road signage and flaggers in the area. Other work includes:

In the existing Parkade, customers will notice fencing, temporary pedestrian walkways and some stalls blocked. This work is for a number of upgrade projects including building new entry ramps as well as the installation of an automated parking guidance system. This will help decrease the time drivers spend circling, also reducing vehicle emissions. The new Parkade will be fitted with this parking guidance system.
As part of utilities work to connect the new GeoExchange system to the terminal, there are nightly lane closures directly outside the old Value Lot on Grant McConachie Way. This work will be ongoing until December and will take place between 9:30pm and 7:00am. One lane will be maintained throughout for inbound traffic.

There are also a number of related projects near by the site including:

Work is taking place outside International Arrivals on level 2 in Chester Johnson Park. In order to facilitate the work, a section of the park is closed. The pet relief area and Japadog will remain in the current location.
A period of significant excavation from the project site has begun. In line with YVR's commitment to sustainability and construction waste diversion, the valuable earthworks materials will be transported to an unused parcel of land south of the BCIT campus on Russ Baker Way. While there are no current plans to develop this site, this is an opportunity to re-use and recycle valuable materials to prepare the land for potential future development. This waste diversion project is expected to prevent more than 215,000 cubic metres of soil from landfill this year alone.

Construction is underway to prepare for Phase II of the McArthurGlen Designer Outlet Vancouver Airport. This phase is scheduled to open in Summer 2019 and will deliver 84,000 square feet of additional retail space.
YVR is planning to redevelop approximately 44 acres of land on airport property in the Templeton area, adjacent to the Burkeville residential neighbourhood. The redevelopment will include a cargo and logistics facility and a linear greenspace for community use. Site preparation work is now underway to prepare the project site for redevelopment.
Little Wings Daycare is relocating from their existing site to the south west corner of Miller Road and Templeton, adjacent to Sea Island Elementary and Park and Fly. This move is necessary due to their current lease ending. To prepare the area for this relocation, work includes preparation of a ditch crossing, as well as earthworks on the project site and installation of site services and utilities.
Parking
A section of McDonald Road is closed for construction traffic only. This work is part of the project to extend the east apron for Remote Stand Operations. Please follow all directional signage to the new McDonald Road, located east of North Service Place.
For more information, visit yvr.ca/construction.