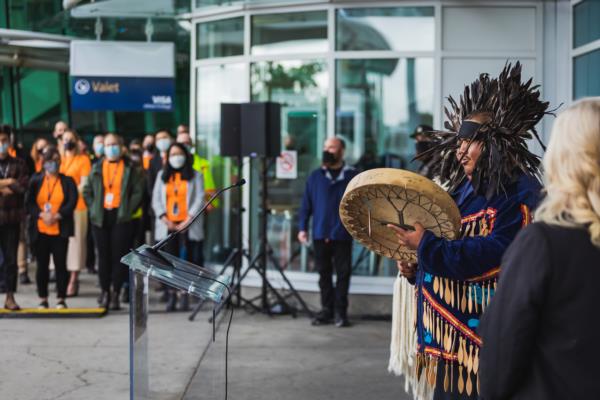 Richmond B.C. (September 27, 2021): Today, Vancouver International Airport (YVR) and Musqueam gathered with the wider airport community in advance of Canada's first National Day for Truth and Reconciliation for a moment of silence to acknowledge the children who never came home.
National Day for Truth and Reconciliation honours the lost children and survivors of residential schools, their families and communities. Public commemoration of the tragic and painful history and ongoing impacts of residential schools is a vital component of the reconciliation process.
"Knowing how busy we are going to be with events that are going to be happening all across our traditional territory, it was only fitting that we came out today and honour the call for us to step forward," said Musqueam Chief Sparrow. He also encouraged those in attendance to learn more about the truth behind Canada's dark history, "The more you learn the more you can educate your friends, family and children. To me, that is reconciliation."
"Part of our privileged position as we serve the public, and as we help them transit through our airport safely each and every day, is to recognize the truth of the people we serve and the history of the community and country to which we belong," said Tamara Vrooman, President & CEO, Vancouver Airport Authority. "I encourage you to take time on September 30 to reflect and to begin the long process of reconciliation that starts with the acknowledgement of truth."
The moment of silence at YVR provided space to remember the children and acknowledge the legacy of pain and suffering of those who survived the trauma of residential schools and the many others who live in its wake.
YVR encourages everyone to take the time to learn about Truth and Reconciliation with Indigenous People in Canada and educate themselves on the 94 Calls to Action from the Truth and Reconciliation Commission.
To continue to bring awareness and show support for National Day for Truth and Reconciliation, the control tower at YVR will be lit orange each night until October 4. As our country continues to mourn the discoveries of unmarked graves, airport flags remain at half-mast.
YVR is committed to continuing to share resources and identify ways to strengthen our work and partnership with Musqueam.
-YVR-
About the Musqueam-YVR Friendship Agreement
The Musqueam Indian Band-YVR Airport Sustainability & Friendship Agreement is a 30-year partnership based on friendship and respect to achieve a sustainable and mutually beneficial future for the community and the lands on which we operate. Among other things, the agreement includes scholarships, employment opportunities and protection of archaeological resources. Learn more here.