Coronavirus
Background
We understand that there is an increasing concern among passengers, employees and the general public surrounding the coronavirus outbreak. It is important to remember that the Government of Canada continues to deem the overall risk to Canadians as low.
Additionally, while the World Health Organization (WHO) declared the Novel Coronavirus outbreak a Public Health Emergency of International Concern, WHO's Director General Dr. Tedros Adhanom Ghebreyesus noted his key concern is the outbreak spreading to countries with weak healthcare systems. WHO also noted they do not recommend any travel or trade restrictions at this time.
We have full confidence in the Canadian healthcare system and the response measures already underway in Canada to detect and combat the spread of coronavirus, including effective airport screening. Canadian airports, including YVR, follow directions provided by the Public Health Agency of Canada (PHAC). PHAC is the federal agency responsible for making decisions about health-related screening of passengers at Canada's ports of entry, including airports.
We have compiled some useful resources and information below. For the most accurate and up-to-date information on the coronavirus situation, please visit PHAC's website here. Additionally, PHAC has established a toll-free coronavirus information line at: 1-833-784-4397.
Important note: if you have any concerns about your health, please contact your healthcare provider or dial 811 if you're in British Columbia.
What can people do to protect themselves?
According to PHAC, the best way to reduce your risk of infection is by taking the following precautions:
Wash your hands often with soap and water for at least 20 seconds
Avoid touching your eyes, nose, or mouth with unwashed hands
Avoid close contact with people who are sick
The wearing of masks is not a recommended preventative measure and should not be considered a replacement for any of the precautions above.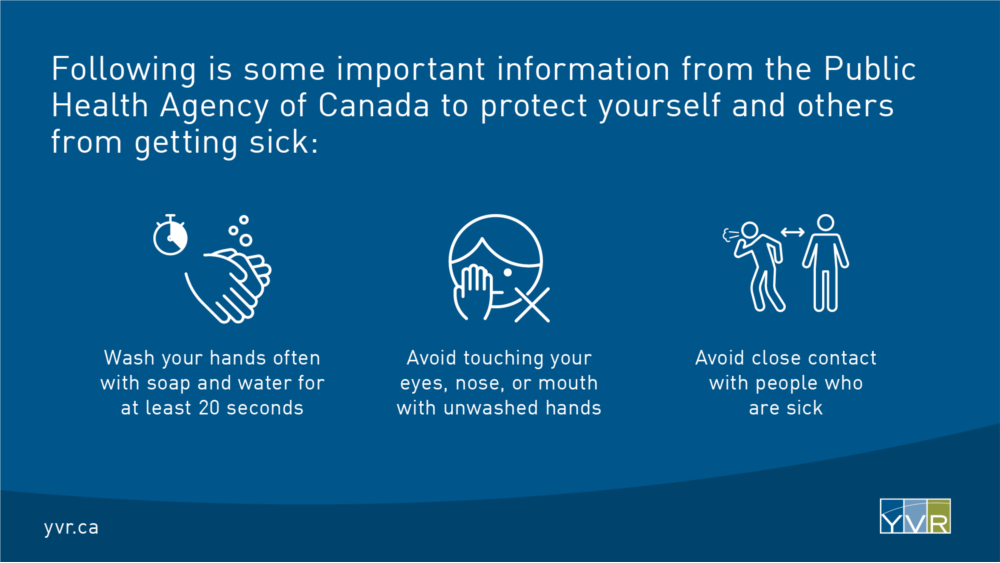 Additional Resources