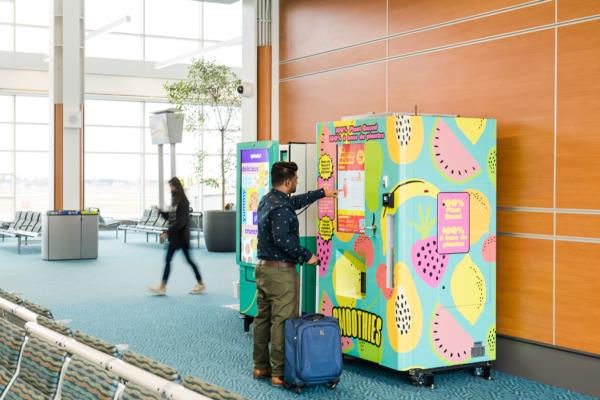 Grab a nutritional snack before jumping on your next flight at Vancouver International Airport (YVR) – no matter what time it is!
Whether travellers need breakfast, lunch or a late-night snack – YVR is proud to announce its partnership with Trendi Tech Inc, a local Burnaby-based company, to install five of its 24/7 robotic Smoothie Machines across YVR's terminal. These machines use rescued fruit to deliver a refreshing snack into the hands of YVR travellers, making healthy options more accessible.
At the touch of a button, Trendi smoothies are the perfect option for travellers in a pinch – dispensing a freshly-blended smoothie in under a minute. Machines are available 24/7 and can be found at Gates B13, B27 and B28 in domestic departures, gate D62 in international departures and E74 in US departures. Travellers will have the choice between four yummy, 100% plant-based smoothies on-the-go:
Strawburst

(strawberry, banana, orange, beet and apple)

Berry Breeze

(strawberry, raspberry, blackberry and apple)

Mango Tango

(mango, banana, passion fruit, ginger and lemon)

Groovy Guava

(guava, papaya, soursop, apple, lime and turmeric)
Trendi's Smoothies are made with no added sugar, no preservatives and are gluten-free. A first for North American airports, these new machines support YVR's commitment to providing healthy food options for travellers, and its journey to transform food and beverage offerings throughout the airport.
Not only will these machines satisfy cravings – they also play an important role in YVR's sustainability efforts and goal to being the one of the world's greenest airports. Trendi reduces food waste by upcycling surplus fruit or fruit with visual imperfections that otherwise would not make it to retail. These fruits, picked directly from a farm, are sent to Trendi to blend into their smoothies.
The result? A delicious and refreshing treat made from nutritional ingredients that would have otherwise slipped through the cracks of food production!
YVR is boldly pursuing a greener and more resilient future alongside our food and beverage partners. This newest food service provider's approach to reducing food waste complements YVR's existing waste diversion program, which encourages more sustainable practices across the airport.
Try this on-the-go sustainability solution next time you're travelling through YVR, you won't regret it!
More information on YVR's dining options can be found at yvr.ca/dine.