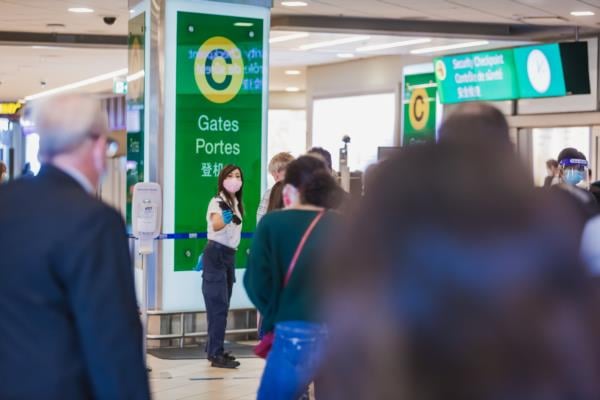 People are travelling again and airports around the world are getting busier. We are thrilled to see so many passengers back in our terminals, but it has been a long time since many of you have flown, and travel might look a little different now. We want you to be prepared. So, we're going to share very honestly what it's like to travel through the airport now. The truth? There will be lines. You will have to be patient and may have to wait. Please don't come to the airport an hour before your flight takes off.
Like many businesses, the Canadian Air Transport Security Authority (CATSA), which is the federal crown corporation responsible for all passenger security screening, is experiencing ongoing staffing shortages, which is contributing to long lines and lengthy delays in processing passengers through security screening at YVR.
As we work with our many partners, including CATSA, to get you on your way, here are five things we strongly recommend to help you prepare for your next trip through YVR:
Arrive early. We strongly encourages all travellers flying from YVR to arrive at the airport early—at least two hours ahead of domestic flights and at least three hours for U.S. and international.
Follow latest health measures. Masks continue to be required in the terminal and onboard your flight.
Take note of in-terminal signs. Passengers may be directed through specific screening checkpoints depending on volume.Please follow in-terminal signs. YVR's Guest Experience team and Green Coat volunteers are stationed at Information Counters and throughout the terminal, and are ready to answer any questions you may have.
Be prepared for passenger screening. Recognize that CATSA staff are doing their best under very busy and challenging circumstances.For those with carry-on luggage, ensure liquids, gels and aerosols are in containers that are under 100 milliliters and are packaged into one transparent, closed and resealable plastic bag with a capacity of no more than one litre. Check the full list of CATSA carry-on requirements here.
Know before you go. Have your travel documents, including your passport and proof of vaccination, ready before you check in for your flight. Be sure to also understand the entry requirements of your destination.
Know that if you're travelling through YVR, our teams are doing their best under very busy and challenging circumstances. Please be patient as we work to serve you as safely and efficiently as possible.
Still need more of a travel refresher? Here's our travel refresher blog to help you make your journey through YVR a smooth one.