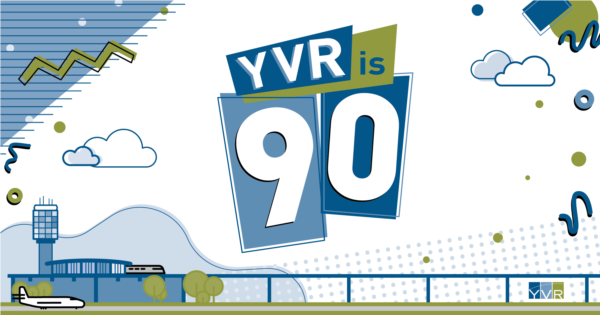 Today marks the official day we opened our doors in 1931. As we reflect on the many milestones over our 90 years, we're excited to share with you an interactive timeline to bring our history to life. A collection of memories in celebration of how far we've come and where we're going as we welcome back passengers and build on our role as the gateway to the new economy.
In 1931 our airport was a single runway, a small wood-framed two-story administration building, two concrete hangars, a floatplane harbour and a control tower. Today, we are Canada's second busiest airport and a global industry leader. We are recognized for innovation, growth and reflecting the very best of our region while at the same time serving our community and the economy that supports it.
When we look back at 90 years of history and innovation it is impossible to narrow it down to 90 moments, but the timeline highlights some of the major milestones throughout our history. It includes terminal expansions, environmental achievements, route launches, community partnerships and even stretches back to before we were an airport, since the first sunrise over Sea Island and chronicles our important friendship with Musqueam.
While we reflect today on 90 years and celebrate all we've accomplished together, the real message we wanted to send along to everybody – our community, our business partners and our employees – is thank you. Thank you for your support. Thank you for your contributions. Thank you for your ongoing dedication to making YVR great and helping us connect BC proudly to the world. We couldn't have done any of it without you.
Here's a timeline of 90 years in 90 moments. Be patient, it can take a moment to load.