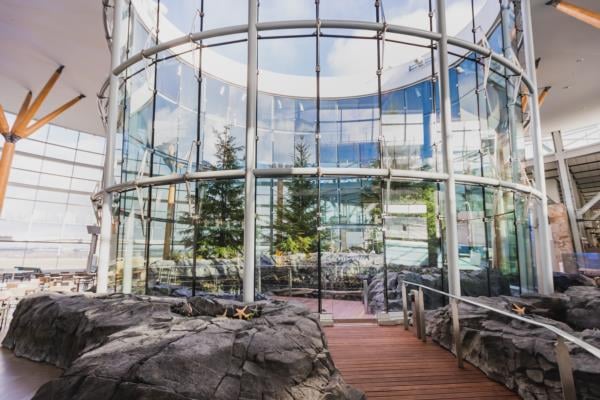 The Pier D Expansion project has officially been completed. The new terminal expansion features eight new gates, a glassed-in island forest with access to the outdoors, an immersive digital experience and a yoga, prayer and quiet room. This was a significant project in the history of YVR and our largest expansion since 1996.
Due to COVID-19, plans to open the facility are on hold. The Pier D Expansion is a strong investment in our future at YVR and positions us well for when air traffic rebounds to pre-pandemic levels.
This milestone expansion could not have been possible without the extraordinary effort by over 500 individuals. We want to especially thank the construction team, led by PCL Construction, the design team, led by Kasian Architecture and Creacom and Eos who brought the digital experience in Pier D to life.
Some of the other features you will be able to find in the new expansion include:
Private nursing room

Pet relief area

Musqueam artist designed vision strips

Hot and cold water bottle refill stations

An abundance of outlets and charging stations
We can't wait to welcome you to the new space one day. But for now, we hope this glimpse provides some excitement for the future of travel at YVR.