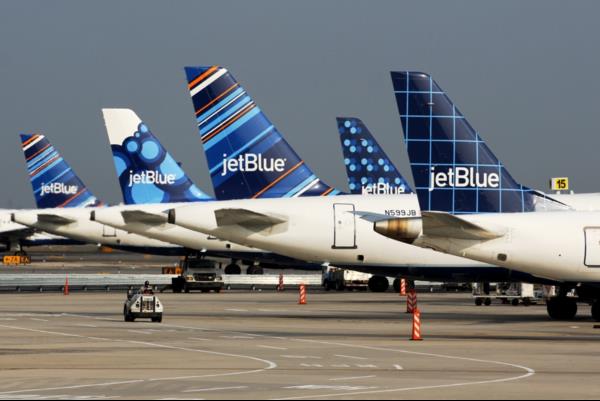 We are truly excited to announce that YVR is JetBlue's first-ever Canadian destination. Starting in summer 2022, JetBlue will be offering two new non-stop services to Vancouver from JFK and Boston. The service to New York's John F. Kennedy International Airport will be a year-round service and the flight from Boston will be seasonal.
Right now, we encourage only those who need to travel for essential reasons to do so, but hopefully sometime soon we will all be able to travel the world again safely.
Now, if you joined us from Instagram or Twitter, we shared some clues. Let's decode those together below.
Clue #1:
This colour blue is the same colour as JetBlue's logo. Did you catch that or did you need more clues?
Clue #2:
Same, same, but different. We are officially JetBlue's first Canadian city destination. The pictured Canadian team figure skating champions at the 2018 Winter Olympics in PyeongChang won Canada's first gold medal at this Olympics.
Clue #3:
These TERRA Sweets & Blue potato chips are a signature item aboard JetBlue's flights. The perfect snack for a flight to New York or Boston if you ask us!
Clue #4:
JetBlue was born at JFK in 1999. Did you find this clue a piece of cake? Sweet!
Clue #5:
This clue was our last ditch effort to help you get to the finish line in case you didn't already figure it out. We know our AV geeks probably figured it out after clue #1. Pictured is the JetBlue airplane tail.
Thank you so much to everyone for playing along with us! We can't wait to share more information about our new airline partner as we near their launch.
Follow us on Twitter and Instagram @yvrairport for more fun on social, and learn more about JetBlue here.