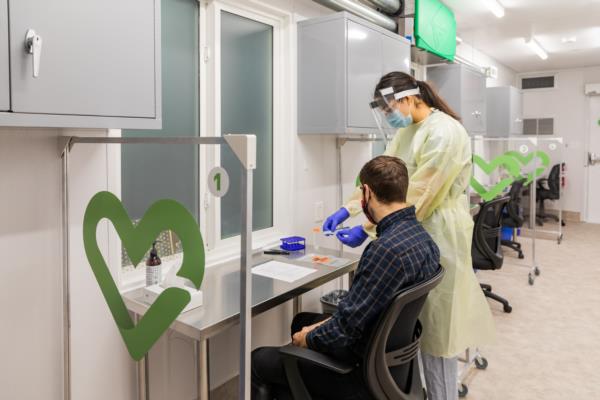 On Friday, YVR launched the WestJet-YVR COVID-19 Testing Study together with WestJet, UBC and Providence Health Care. This is the first study of its kind in Canada to investigate a method of COVID-19 rapid antigen testing to help inform the safest and most efficient way of testing departing passengers at YVR.
The study is located at WestJet's domestic check-in area and includes three simple steps: registration and informed consent, testing, and results. Researchers from UBC and Providence are responsible for collecting samples in a ready-made testing station.
A positive rapid test result does not constitute a medical diagnosis for COVID-19 and participants who test positive will be required to undergo Health Canada-approved testing using the RT-PCR diagnostic test. For these guests, WestJet will rebook or cancel flights at no charge. Participants who test negative will continue their travel journey and are still required to follow all existing COVID-19 requirements.
This study is voluntary and open to WestJet guests on their day of travel. Interested in volunteering?
To be eligible for the study, you must be:
Between the ages of 19 and 80.
A Resident of British Columbia.
Ticketed for a domestic departing flight.
Have a minimum of 75 minutes to participate.
Please note: You are not eligible if you have previously tested positive for COVID-19 within the past 90 days and you do not provide written, informed consent.
For more information, visit westjet.com/covidtesting. To register for an appointment, visit testingyvr.ca.