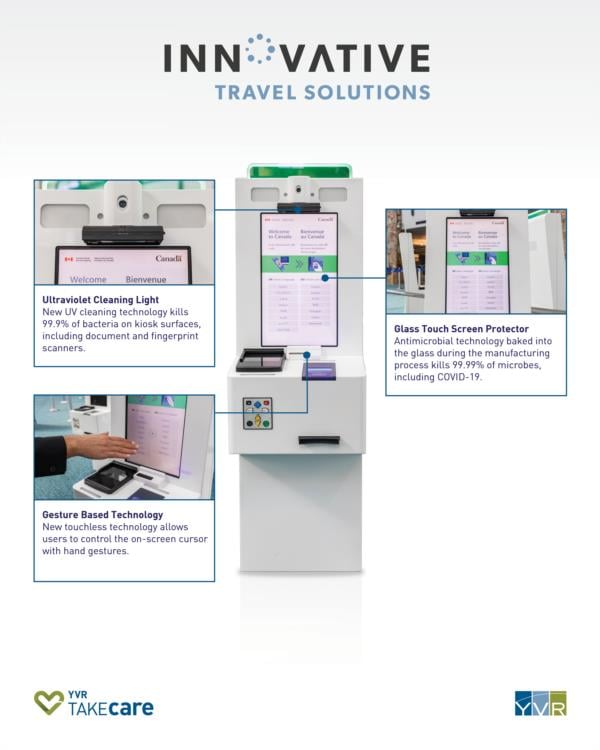 YVR's Innovative Travel Solutions (ITS) is the industry's largest and most experienced provider of kiosk-based border control solutions, having helped more than 250 million passengers safely and securely clear the border at 45 airports and seaports around the world. In response to the significant and rapid impact COVID-19 has had on the travel industry, ITS is once again at the forefront of delivering a purposeful and innovative solution. Since May, the team has been researching, developing and leading in a future solution—a self-cleaning, contactless experience with our BorderXpress kiosk.
If you are unfamiliar with BorderXpress kiosks, they help expedite the border control experience while reducing passenger wait times. Configurable to meet the immigration requirements of any border authority, the typical process for BorderXpress requires travellers to select their language, scan their travel documents and answer a few simple questions. The kiosk then produces a token that is either printed off or electronically sent to the border agency for them to make the final decision on entry or exit. Safety and security are top priorities for ITS, which is why BorderXpress uses state-of-the-art biometrics, industry-leading document authentication and anti-spoofing protocols.
As part of the BorderXpress retrofit kit, ITS is introducing three new features:
Gesture Based Technology:

This new touchless technology allows

users to control the on-screen cursor with hand gestures at a distance of about 30 centimetres away from the screen. Users are able to hover on the

buttons and make contactless selections.

Ultraviolet (UV) Cleaning Light: This UV cleaning technology bathes everything below the light, which includes the document and fingerprint scanners. After a three-minute cleaning cycle, 99.9% of bacteria on surfaces will be eliminated. The kiosk also includes a built-in motion detector that will shut off the light when users are in close proximity.
Glass Touch Screen Protector: This additional health and safety layer is an active touch screen protector that is baked into the glass during the manufacturing stage. It harnesses any light and turns it into a source that kills 99.99% of microbes, including COVID-19.
Built by an airport, for airports, ITS offers a unique industry perspective, being able to use YVR as a live test site to build the best technology prior to going to market. And it's happening right now. Two of these technologies are currently in place at YVR's Canada Border Services Agency (CBSA) hall with a prototype to test the user interface. This, in turn, allows the ITS team to learn and observe, incrementally improving the user experience that one day all will benefit from.
We look forward to sharing more updates in the coming weeks ahead. For more information about ITS, visit innovativetravelsolutions.ca.