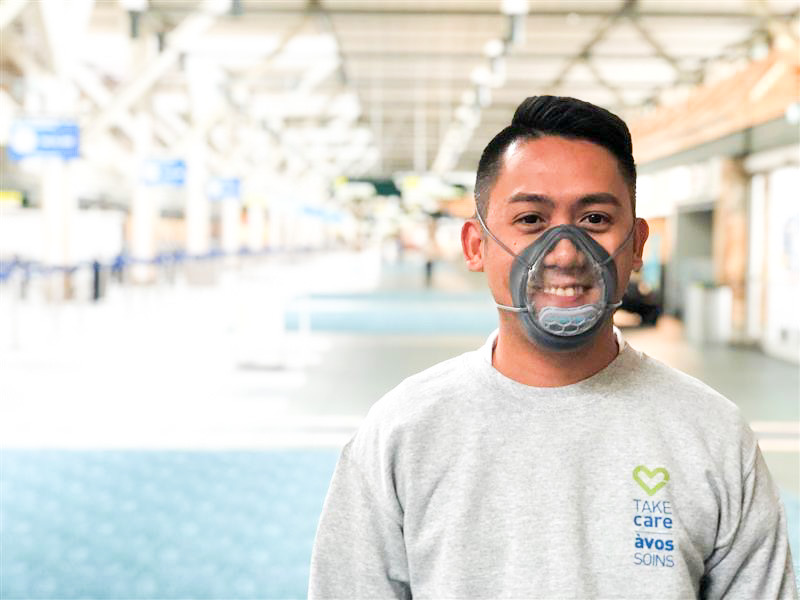 Wearing a face mask has become a part of everyday life. For people who are Deaf or Hard of Hearing, face masks create communication challenges as important facial expressions are blocked from view. That's why we're proud to be working with Wavefront Centre for Communication Accessibility (Wavefront Centre) and Tinkerine to address this challenge by researching, developing and bringing to market clear face masks.

Clear masks remove communication barriers by ensuring expressions can be seen clearly, allowing those who rely on these important cues, as well as lip reading, to fully participate in conversation.

At YVR, we care deeply about accessibility and giving back to our community. Working with industry leaders like Wavefront Centre and Tinkerine allows us to help people who are Deaf or Hard of Hearing communicate, clearing the way for everyone to connect and converse, while upholding important health and safety measures that help stop the spread of COVID-19.

The clear face masks are designed locally by Tinkerine, a Vancouver-based 3D printing and EdTech company, and are being manufactured in Canada. Wavefront Centre is a local non-profit charity focused on reducing communication barriers for people who are Deaf and Hard of Hearing.

We look forward to sharing more details about the new clear face masks as the product evolves and our plans for making them available to the community. Sign up here to receive updates, including information about how to purchase the masks.