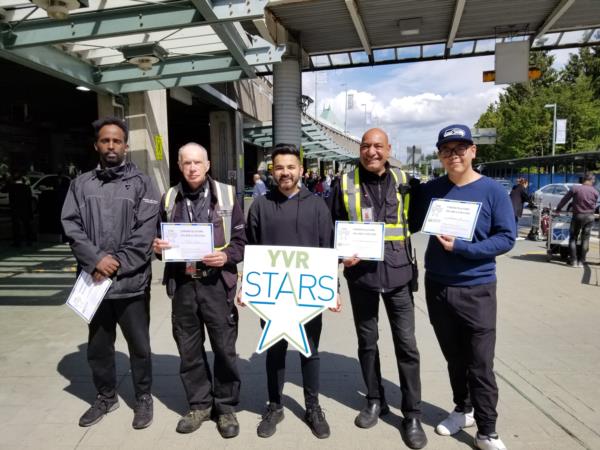 The dedicated team from Paladin Security helps passengers as they leave the airport, directing traffic and hailing taxis. This team was put to the test several months ago after a woman collapsed near a crosswalk. Immediately after the incident, two Paladin employees took action and ran over to the woman to see if she was ok. They notified YVR operations and opened a conference line with paramedics and the ground transportation dispatcher.
Thanks to the Paladin team, the passenger received immediate attention. This team demonstrated incredible teamwork and customer service in a difficult situation, working together seamlessly to help a passenger, all while ensuring the curbside was still operating and getting people on their way. We would like to acknowledge this team with a YVR Star, the airport's official recognition program, for going above and beyond to ensure the safety and security of our passengers. On behalf of Vancouver Airport Authority, we are grateful to have the Paladin team looking out for our passengers. Thank you to Karim Nowrozzadeh, Manpreet Kaler, Michael Wagner, Johnson Yu, Naval Kumar, Roneil Prasad, Abdullahi Yusuf and Victor Cao.
If you ever see any employees or volunteers go the extra mile, please nominate them for a YVR Star and share your experience. We want to hear from you and recognize exceptional customer care. Learn more at yvr.ca/yvrstars or tell us your story @yvrairport using the hashtag #YVRStars or send us an email at [email protected].