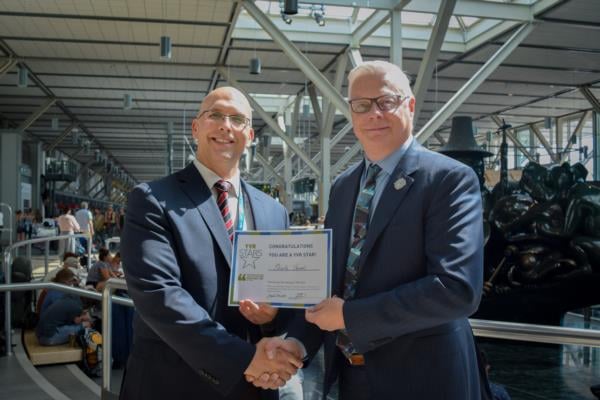 Security screening can be a challenging part of the travel experience for passengers—especially during the busy times—but thankfully when you have top staff on the job everything works out. Two passengers witnessed top screening service on a recent summer day at YVR, while travelling domestically. At passenger screening, a women who was soon to be married was travelling through YVR with her mother. At the screening point, her mother was stopped briefly as she accidentally brought cream in her carry-on bags. While screening officers helped sort the situation out, another passenger mistakenly took the soon-to-be bride's carry-on suitcase, which contained her wedding dress.
The passenger was understandably upset, feeling the likelihood of seeing the dress again to be very slim. But that's when Nicolas (Nic) Beradi from G4S sprung into action. Nic calmly and cheerily handled both situations by walking back and forth between the passenger's mother and herself, assuring them that he would locate the suitcase and assuring her mother that he would fit as much of her cream in a plastic bag as he could. He contacted Ottawa to retrieve footage showing which passenger accidentally took the passenger's bag, and managed to retrieve it just in time. In the end, Nic swept in to assist our customers with a challenging situation. He went above and beyond and deserves recognition as this month's YVR Star. Great job, Nic!
If you ever see any employees or volunteers go the extra mile, please nominate them for a YVR Star and share your experience. We want to hear from you and recognize exceptional customer care. Learn more at yvr.ca/yvrstars or tell us your story @yvrairport using the hashtag #YVRStars or send us an email at [email protected].