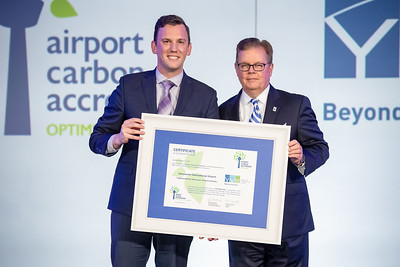 After 'leveling up' last year, YVR continues its carbon reduction journey and has successfully renewed Level 3 Carbon Accreditation by Airports Council International for a second year – demonstrating that we have taken additional steps to reduce our climate impact.
As a leader in environmental sustainability, YVR is among 47 airports in North America (only 16 of which have reached Level 3) that were recognized this week in Tampa for their achievement.
For many years, YVR has been taking steps to reduce our own carbon emissions by upgrading our fleet, improving airport infrastructure, and reducing fossil fuel consumption. To achieve Level 3 accreditation, YVR had to demonstrate that we are influencing emissions reductions in the surrounding community as well. To that end, YVR is proud to work closely with business partners through programs such as Project Green YVR to minimize vehicle, building and aircraft greenhouse gas emissions and to support low-carbon travel options including our $300 million investment in the Canada Line connection to YVR as well as electric vehicle parking and cycling infrastructure.
Launched in 2009, Airport Carbon Accreditation is an independent program that reviews and enforces the accreditation criteria for airports on an annual basis. Currently, 284 airports actively engage in the program in over 68 countries worldwide. From July 2017 to June 2018, these airports collectively reduced CO2 emissions by more than 347,026 tonnes. This is the equivalent of growing more than eight million seedlings for 10 years!
At YVR, our 2015-2019 Environmental Management Plan sets the framework for all our environmental initiatives, which include reducing greenhouse gas emissions by 33 percent as well as other ambitious environmental goals.