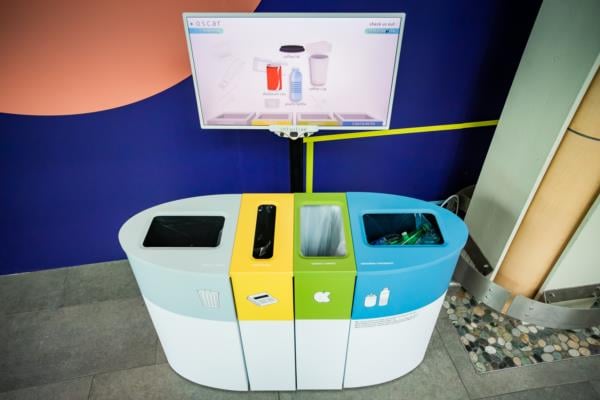 YVR's unique operating model drives us to invest in innovation, developing new made-in-BC technologies to make your airport experience even better. Cue Oscar. Oscar is a self-sorting waste bin that uses Artificial Intelligence to ensure that waste is disposed of in the most eco-friendly and sustainable way possible at Vancouver International Airport.
Oscar uses a combination of robotics, machine learning and computer vision to detect and accurately route disposed items into the correct waste category. Hussan Murad, Chief Executive Officer of Intuitive AI expressed his team "couldn't think of a more innovative place than YVR to pilot this technology." YVR currently has three Oscar bins located throughout the terminal. To access Oscar's guided waste disposal system, approach the bin and hold the waste in front of the camera and wait for Oscar to tell you where it goes.
YVR strives to be a leader in sustainable practices, especially when our passengers are coming and going all over the world. It is important to us that every visitor can access and understand our waste management assistance programs, like Oscar, so we can ultimately reduce YVR's contribution to landfills. Since Oscar's arrival, we have already seen a positive impact on our waste diversion efforts.
In addition to Oscar's arrival at YVR, we also have many other innovative waste management initiatives to reduce impact. Passengers have access to multi-stream recycling stations throughout the terminal as well as the programs YVR sustains with its partners, especially food and beverage providers, to divert waste from landfills.
In 2018, YVR recycled and composted 2.4 of 4.8 million kg of domestic and international terminal building waste, resulting in a 51 per cent diversion rate—one per cent over the 2020 target, for the third year in a row.