YVR is home to more than 50 food and beverage options located before and after security. This means that visitors alike have options for every craving, price range and dietary restriction. This edition of TasteYVR will highlight our airport's best animal product-free options for vegan visitors!
Pre-Security
You've just arrived at the airport and are hankering for a bite before heading through security. Or maybe you're dropping off a loved one and want to share a final meal before a loving goodbye. Regardless of your situation, the welcoming arms of a West coast favourite awaits you. The legendary BC establishment White Spot has recently upgraded their menu to expand their range of vegetarian, vegan and gluten-free options. Their introduction of the Beyond Meat® protein to their menu means that vegans and unfailing meat-lovers can enjoy their delicious new Avocado Beyond Burger. Make the switch to a gluten-free bun and you've got yourself a great vegan lunch or dinner.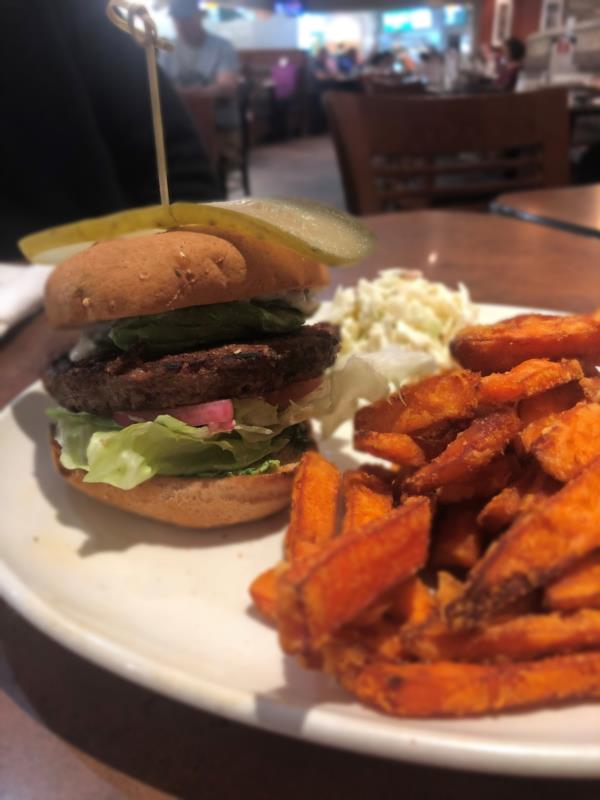 Sweet potato fries are cooked in a separate fryer for vegan and vegetarian options – they make the perfect side!
Another vegan favorite is the Southwest Power Bowl. Simply order sans jalapeno ranch and you're good to go. Certain classics on the menu such as the Teriyaki Chicken Rice Bowl or Chickpea & Cauliflower Curry can also be made vegan with a few minor changes by request.
Looking for a quicker and more customizable meal on-the-go? Freshii in the International Terminal food court offers a wide range of nutritional options for healthy eaters. Freshii allows you to customize a menu item or create your own bowl, salad or burrito to your vegan heart's delight. We love the Mediterranean Bowl with no cheese or you can grab the Teriyaki Twist, which is already vegan and requires no changes.
Post-Security
Now that you're past the gates and waiting for the call to begin boarding, it's the perfect time to grab a bite before getting on a flight. Pressed for time and need a quick fix? Rice Tales is a great takeout spot for your rice and noodle needs. With a variety of sauces and fixings to choose from, you can grab an all-veggie rice or noodle bowl with tofu, mushrooms, carrots and the works, topped with the sauce of your choice. Many of the sauce options are vegan – ask your server to make sure! Nothing beats a good and simple stir-fry.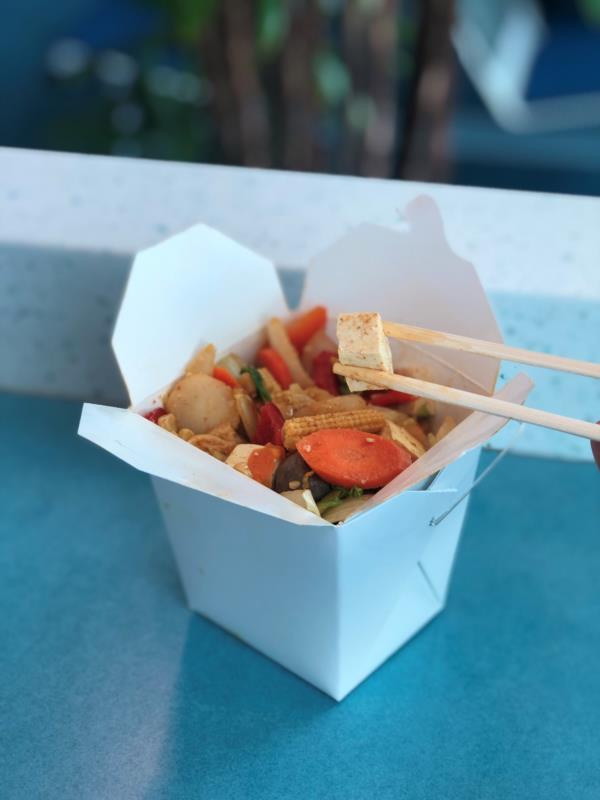 This veggie rice bowl with curry sauce from Rice Tales was a filling and delicious lunch. Michelin awaits!
If you have a little more time to kill and are in the mood for a sit-down restaurant, Canucks Bar & Grill is a popular option for every sports fan and food-lover. The atmosphere is filled with hockey-themed décor, sports channels on the TVs and even Canucks memorabilia on sale. Best of all, they have the perfect vegan meal in their lineup. Kick it off with a bowl of salty and savory edamame beans to tease the palette. Then, throw a curveball at their Stirfry Chicken Bowl by substituting Portobello mushroom for the protein. Touchdown. Home run. That's at least three strikes for bad sports puns, but now I'm out. Okay seriously, I'm done now.
YVR's wide variety of dining options give every traveler and visitor a chance at the perfect meal and there are still more to come: new food and beverage options are set to open at YVR over the next two years. You can find vegan options in the following locations: White Spot, Freshii, Rice Tales, Canucks Bar & Grill, Vino Volo, Green Bean Cafe, Lift Bar & Grill and Camden Food Co. Regardless of craving, timing or dietary restriction, YVR's bevy of food and beverage options has you covered.