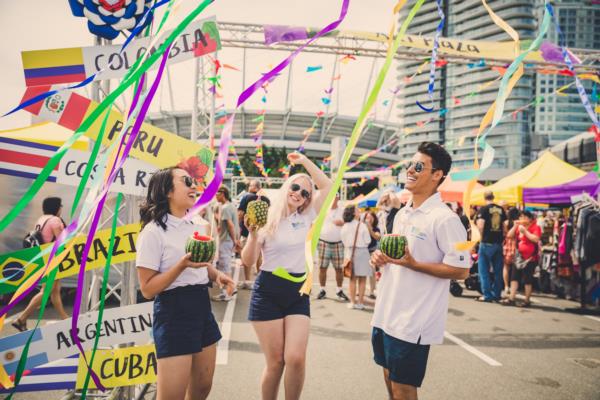 Canada Day may be over, but that doesn't mean the fun has to stop! School is finally out, and summer is officially in, meaning it's your chance to get out and enjoy the sunshine. What better way to do this than at Latincouver's Carnaval del Sol. Check out our Top 5 areas to visit at this festival.
1. YVR Travel Plaza
Are you on the lookout for your next vacation spot? We're going to be hitting up the YVR Travel Plaza to learn more about all that Latin America has to offer. From its history to its natural beauty, you're sure to receive some inspiration for your next trip.
2. Food Plaza
Check out the diversity of Caribbean and Latin American food at the Food Plaza. With unique flavours coming from various parts of those regions, you'll definitely bring your taste buds on a journey. To take a glimpse at the different vendors you can expect, visit carnavaldelsol.ca/vancouver/plazas/food-plaza/.
3. Experience Plaza
Eating food at a festival is one thing, but imagine if you could recreate those dishes when you got home? Well, you can! Learn how to cook some delicious Latin American dishes at the Experience Plaza. Carnaval del Sol will be bringing eight different chefs from Canada and Latin America to provide cooking demonstrations, so you can bring those flavours back to your own kitchen.
4. Art Plaza
Take a look at the creativity being displayed in the Art Plaza. The work of various artists will be showcased, combining traditional Latin America work with influences from the Pacific Northwest. Make sure to check out the traditional and contemporary live painting, photographic displays, and handcrafts.
5. Main Stage
Join the crowd at the Main Stage to listen to a wide range of artists showcasing music to suit all music tastes. Dance performances will be mixed in with musical performances which means the stage will be packed with entertainment all throughout the day.
That's a wrap for our third Top 5 of the summer season, but don't miss out on our Instagram stories! You can follow us @yvrairport where we will showcase all of the fun that's going on at Carnaval del Sol.
For more information on the Carnaval del Sol including hours and other exciting activities, please visit carnavaldelsol.ca.
To learn more about YVR's community investment program, please visit yvr.ca/community.