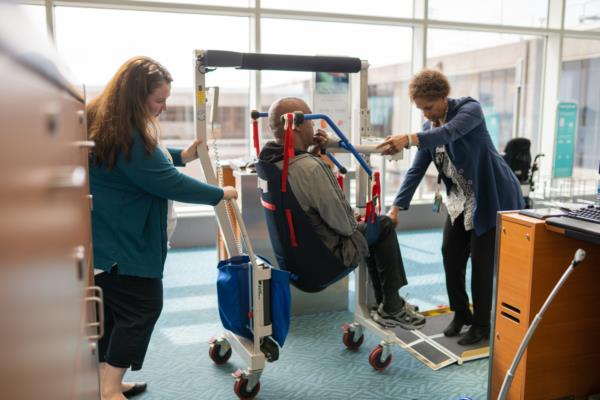 Two WestJet employees demonstrating how the Eagle Lift works with a SCIBC Tour participant.
At YVR, accessibility and inclusion are top priorities for us. We believe that anyone who wants to fly should be able to fly.
Over the last seven years, we have proudly supported Spinal Cord Injury BC through our community investment program. Community partnerships like the one we have with SCIBC create shared value in that we can support their initiatives, but they provide us with valued insight on how we can continue to evolve and improve accessibility at YVR. There are many features that we are continually refining and building upon.
Through our partnership with SCIBC, we have collaborated to develop a travel guide and video series and other resources to ensure a smooth travel experience for individuals with accessibility challenges. Each year, we host an airport experience tour where participants have the opportunity to experience the check-in process, learn about the security screening process with CATSA, learn about boarding the aircraft and trial the transfer chairs and equipment used by WestJet and other airlines at YVR. Our partners at CBSA also joined the tour to share information about their customs process.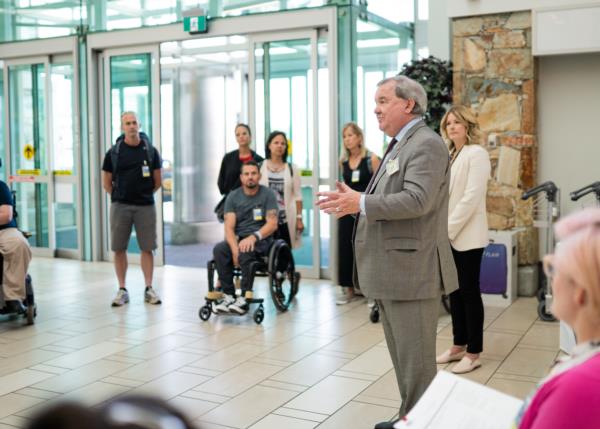 The Honorable Shane Simpson, Minister of Social Development and Poverty Reduction, B.C. Provincial Government speaks to tour participants.
This year, we had 25 participants and we were fortunate to have the Honorable Shane Simpson, Minister of Social Development and Poverty Reduction, B.C. Provincial Government, join us to learn more about accessibility at YVR.
We appreciate the valuable insight that we get on these tours. We welcome any feedback on your experience and ideas you may have which can improve accessibility at YVR. Check out our website for more information on accessibility at YVR and accessible travel planning.
Key tips we can offer are:
Do your research with the airline prior to booking.

Plan ahead.

Communicate for your needs when booking.

Accept help if you need it.

Prepare your chair for travel.

Ensure prescription medication is in bottle that indicates the prescribing physician, pharmacy, dose, and medication name.

Advocate your needs and know your rights.

Arrive at the airport and check in at least 60 minutes in advance of the recommended check-in time

for your flight.

Arrive

to the gate at least 15 minutes before the boarding time on your ticket.