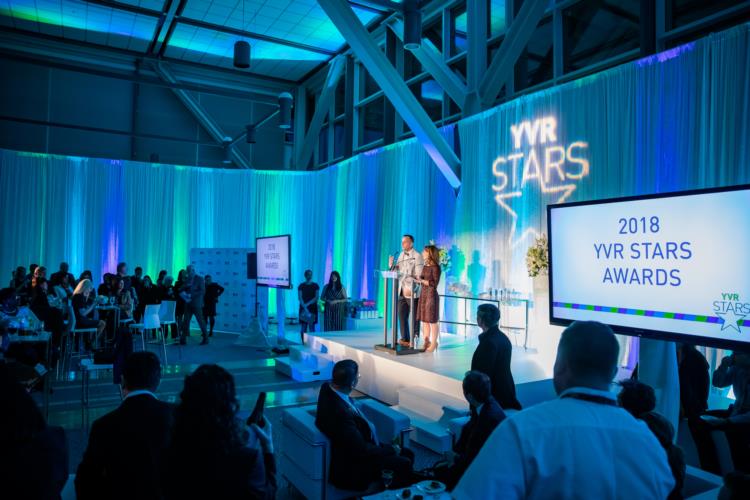 This past year, YVR has received many significant accolades, including being named Best Airport in North America by SKYTRAX for a record tenth consecutive year. This incredible achievement would not be possible without YVR's outstanding team - our dedicated employees and volunteers on Sea Island Way who go beyond, every day to ensure our passengers' journey is as smooth as possible.
To celebrate and honour the outstanding work of our employees, we hosted our fourth annual YVR Star Awards Gala earlier this year. YVR Stars is the official airport program that recognizes workers and volunteers on Sea Island who go the extra mile for our customers. A YVR Star can be anyone, from a ground transportation employee helping a passenger jump start their car to a barista who puts a smile on someone's face.
During the event, we had the honour of recognizing 280 YVR Stars from 2018 including individuals from our Green Goat volunteer program, our customer service providers, retail partners, airline staff, curbside operations and many more who demonstrated exceptional safety and security, teamwork and overall customer care. Last year, we received a total of 450 nominations from 39 companies for YVR Stars featuring amazing stories of our team.
We encourage anyone to nominate a YVR Star. Once we receive a nomination, the worker or volunteer is notified of their new YVR Star status and given a special gift as our way to say thanks. Stay tuned for monthly profiles on some of our incredible YVR Stars!
Have you seen someone go beyond to help our customers? Or has someone helped you when you really needed it? If so, nominate them as a YVR Star and share your memorable experience. Learn more at yvr.ca/yvrstars or send us an email at [email protected].