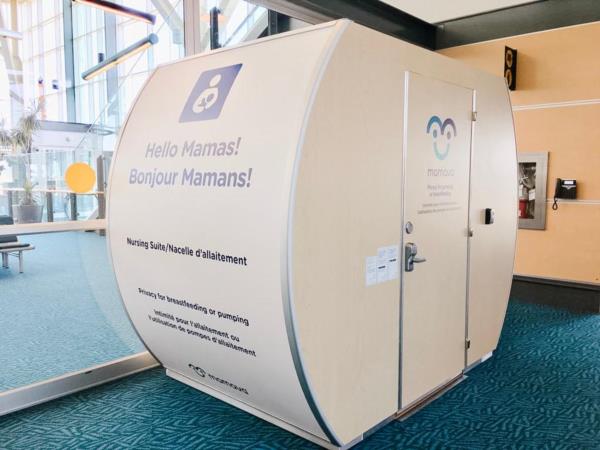 YVR is excited to announce that we are piloting our first Mamava pod in the terminal for private breastfeeding and pumping! This new pod offers a safe, clean, comfortable and private option for anyone who wants to nurse their little ones.
The Mamava pod is a fantastic all-in-one solution for parents on the go. It's a fully loaded 50 sq. ft. pod with dual grab bars, two benches, a charging outlet, USB port, shelf, mirror, and coat hook, as well as ceiling vents, an exhaust fan and occupancy-activated lighting.
YVR's new Mamava pod can be found post-security near gate 77 in U.S. departures. Parents can enter the pod using the free Mamava mobile app, available on iOS and Android, or by contacting our 24/7 Operations Centre.
This Mamava pod is just one of many accessibility and inclusivity features at the airport – we've installed this new nursing pod to ensure ease and comfort of families travelling through YVR.