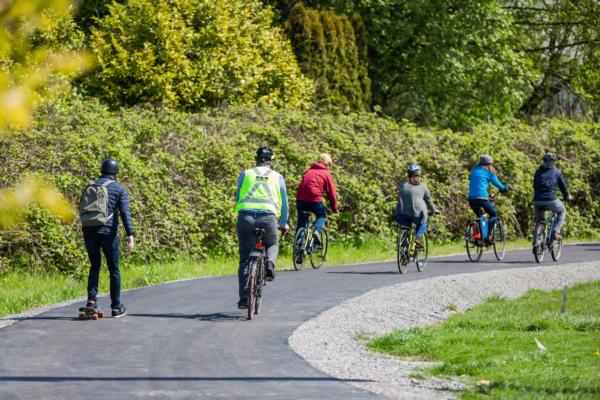 How travellers access the airport is an important factor in YVR's vision for sustainable travelling. It is important that both workers and travellers have sustainable options when going to and coming from Vancouver International Airport, which includes arriving on foot and by bicycle. We are constantly working to make the airport and our surrounding communities even better. Our ability to improve infrastructure in our community stems from our unique business model. We are a community-based, not-for-profit organization that reinvests all profits back into the airport and our local communities—improving YVR for everyone.
This pathway has been years in the making with the help and support from several organizations and members of the public. A preliminary assessment and design of the project was conducted in 2015, with the pathway being completed in early 2019. The pathway is now open for public use and connects from Flight Path Park, heading north along Russ Baker Way and crossing over to BCIT and up to the dyke at the Pacific Autism Family Network. It is 1.2 kilometers long, bringing the amount of non-vehicle commuter infrastructure on Sea Island to a total 29 kilometers.
The pathway was developed to fill a network gap on Sea Island and links between the South Terminal to north Richmond for commuter & recreational cyclists. It accommodates all ages and abilities, including both cyclists & pedestrians.
We continue to see growth in cycling at YVR. Our three bike counters recorded 89,587 cyclists on Sea Island in 2018 – a two per cent growth over 2017. To support this positive trend, YVR has been participating in Bike to Work Week for over 10 years. In 2018, 18 employees participated in the week-long event in the spring and fall, travelling a total of 1,492 km and avoiding 0.32 tonnes of carbon emissions. Click here for more information on cycling to YVR.