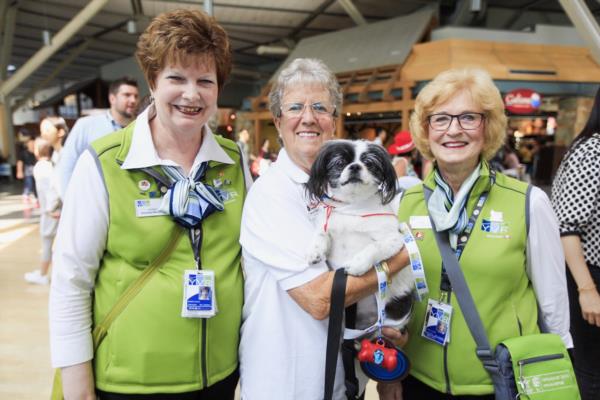 Do you know anyone with a service animal? If you do, you might understand how important they are to their owner's wellbeing, especially while travelling. Animals play a huge role in accessibility at the airport, which is why YVR has partnerships with many great organizations like PADS, BC and Alberta Guide Dogs and St John Ambulance.
These partners make it possible for YVR to have programs such as LASI, YVR's Less Airport Stress Initiative, which brings therapy dogs around the airport for travellers to pet and play with while waiting to board.
YVR also works with organizations like Pacific Assistance Dogs Society (PADS) and BC and Alberta Guide Dogs to raise certified assistance dogs for people with disabilities.
When travelling through the airport, make sure to only approach dogs wearing a Therapy Dog scarf, as many service animals around YVR are fulfilling a duty to help someone get through the airport and its best to let them focus on doing their job. It also never hurts to ask the person the animal is accompanying before approaching the animal or signaling that you want its attention.
Everyone knows the feeling of when you suddenly 'gotta go', which is why you'll also notice YVR has animal relief areas throughout the terminal.
From therapy dogs to service animals, YVR owes a big woof (thank you) to the furry flight friends that help our passengers find their way through the terminal.
For more information on accessibility at YVR, visit our Accessibility page.