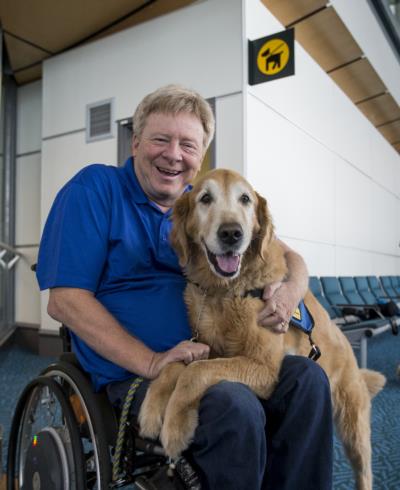 Today marks the start of National AccessAbility Week in Canada. Vancouver International Airport (YVR) strives to offer a positive experience to all travellers who visit our airport. Last year, we welcomed 25.9 million passengers and for YVR, it's very important that every one of these passengers has a seamless airport experience. That is why universal access is fundamental to everything we do. This week we will be sharing some of the great features of accessibility and inclusion around YVR. We will also be highlighting many of our community partners that help us ensure everyone who wants to fly, can fly.
If you've ever flown through YVR, there are many welcoming and accessible features that you experience without even realizing it! Some of our airport's accessibility features include hearing loops at all information counters, visual paging across the terminal, sign language display on monitors in the arrivals area, automatic doors, contrasting floor tiles to help guide those with visual impairment or partial vision loss, heat sensitive speakers with self-adjusting volume, animal relief areas, curb to gate assistance pre-arranged with airlines, and more.
In December of last year, Vancouver International Airport was officially rated 'Accessibility Certified Gold' under the Rick Hansen Foundation Accessibility Certification program. YVR is not only the first airport to receive the gold rating but is also the highest rated building in the program.
As we continue to grow, we will remain focused on constantly improving our airport and supporting accessibility in our communities. And we're confident that, with such good partners supporting us, we will continue to connect B.C. proudly with the world.
For more information on accessibility at YVR, visit our Accessibility page.