While the NCAA Men's Basketball Tournament is in full swing this month, we have our sights on a different and perhaps equally competitive bracket. Over the past week, followers of our Instagram page have participated in YVR's 'Last Livery Standing', a competition featuring four conferences, 32 competitors and, eventually, one winning aircraft design to be crowned the victor.
Here's how it works. We've selected 32 airplane liveries that we've seen here at YVR and separated them into four conferences: Domestic, International/U.S., Asia-Pacific and Special. The special conference is dedicated to the unique liveries that have flown through YVR from various airlines, such as WestJet's Mickey Mouse themed "Magic Plane" or Iron Maiden's (yes, the band) 747, flown by their very own lead singer. The liveries are then matched up in a bracket that can be seen below. The winner of each match-up (as decided by Instagram story polls) moves on to the next round, until a winner is crowned the prestigious title of Last Livery Standing!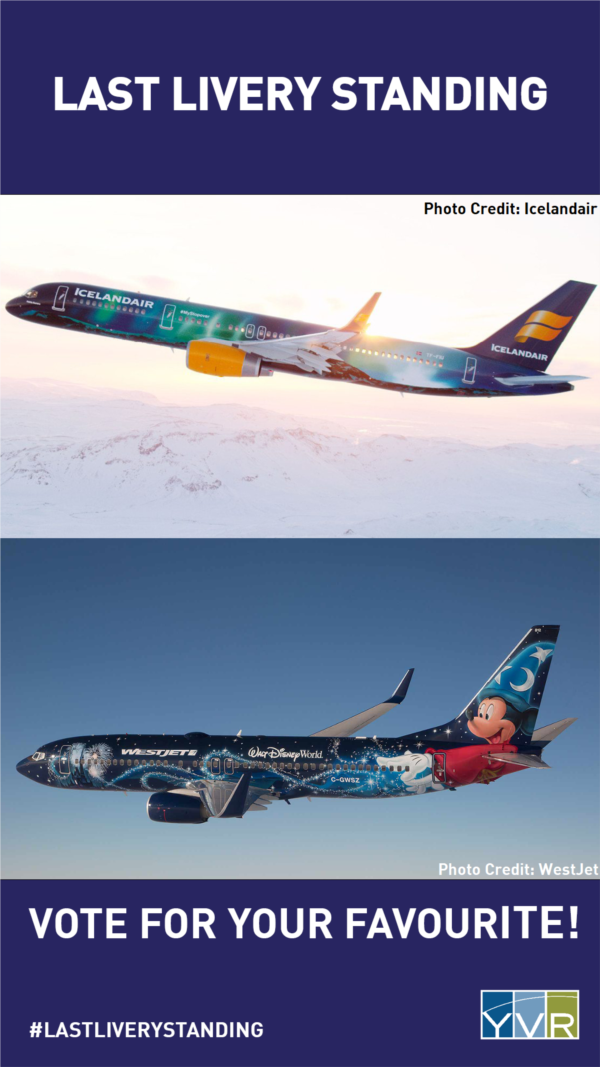 A heavyweight match-up in the Special conference between Icelandair's Hekla Aurora and WestJet's Walt Disney World Mickey Mouse liveries
The competition kicked off this week with thousands of participants fiercely voting for what they think is the best-looking airplane design.
As with any good competition, we've seen a few big upsets with airline giant Lufthansa and Icelandair's Hekla Aurora, a plane-spotter favourite, going down in the first round. We have now narrowed it down to our Sweet Sixteen with voting beginning today. Here's how the bracket is shaping up so far: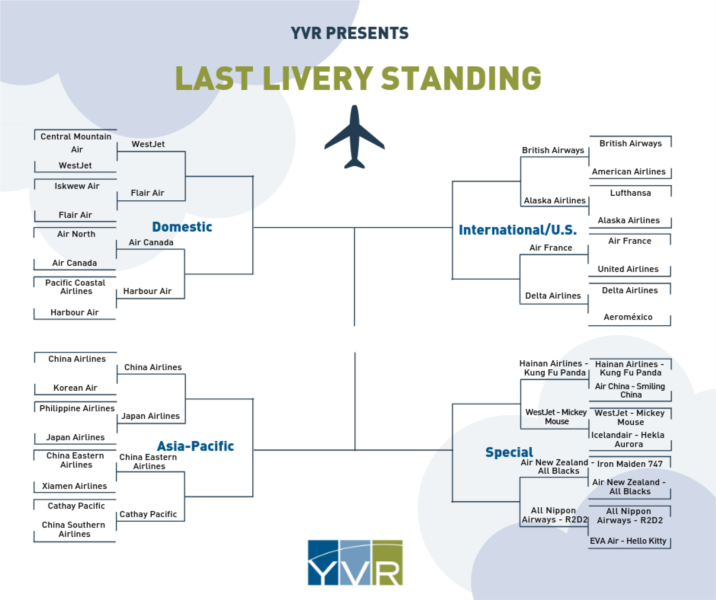 Competition is heating up as we get to our Sweet Sixteen match-ups.
Not only is this competition exciting to track, followers gain a chance to win a YVR prize pack, including a plane model from the winning livery's airline with every vote in the competition. If you want to double your chances to win, fill in a bracket and post it on your story or Instagram feed with the hashtag #LastLiveryStanding and tag us @yvrairport.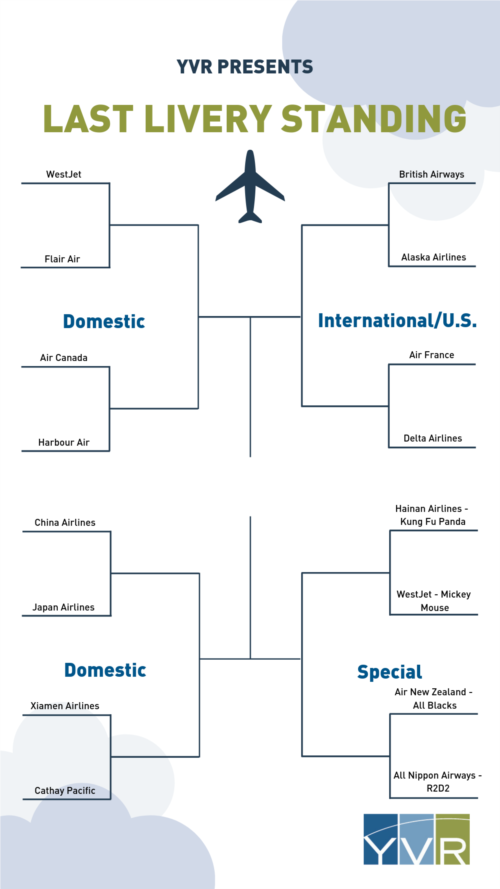 Submit a bracket, and vote on our Instagram stories for a chance to win!
Don't miss out on the madness, and participate in this fun contest by following us on Instagram: www.instagram.com/yvrairport/