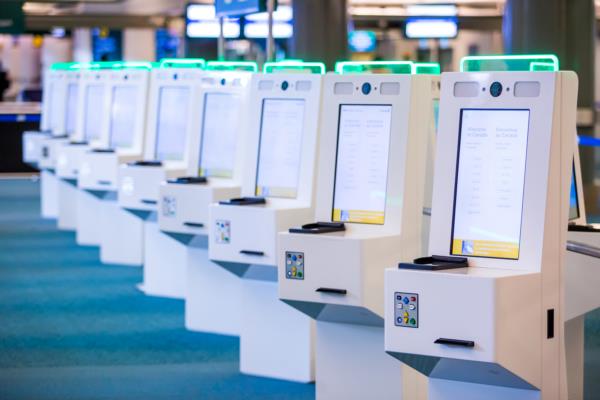 YVR is thrilled to announce that our team at Innovative Travel Solutions (ITS) has been named as finalist in the 2019 PwC Vision to Reality (V2R) Awards in The Builder category for their BorderXpress kiosk solution.
Innovative Travel Solutions is an independent business unit within YVR focused on delivering industry-leading travel technology that helps transform travellers' experience. ITS' BorderXpress product is a self-service solution that automates the administrative functions of border control with a two-step process that makes border processing faster and more efficient and can reduce passenger wait times by more than 60 per cent. This results in fewer missed connections and cost and space savings for airports. YVR's unique, not-for-profit governance model allows us to support innovation within our organization through independent business units like ITS. In turn, ventures like ITS generate a great source of non-aeronautical revenue which is all reinvested back into the airport. It also enables us to support our local community with annual donations of more than 1 million dollars to community partners across the Lower Mainland.
The V2R Awards is PwC Canada's annual program aimed at recognizing and celebrating the most forward-thinking organizations in the nation. The Builder award is given to the mid-market organization that best demonstrates a new idea that adds value to people, business or society. The winners will be announced at a ceremony on May 9th.
For more information on Innovative Travel Solutions and their Primary Inspection Kiosks, visit http://www.yvr.ca/en/business/self-service-border-products.