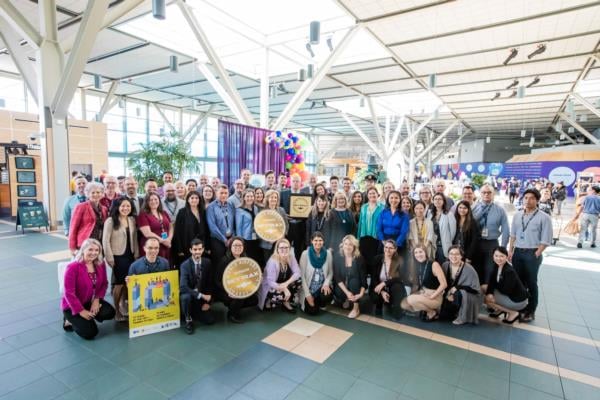 YVR isn't just an airport. Our unique, community-based operating model has helped us grow into a powerful connecting hub and economic contributor—one that supports thousands of jobs, connects local companies with customers around the world and welcomes millions of visitors to our province every year. There are 21 exciting new roles currently posted on the YVR Careers page, and we've rounded up the top jobs for this month:
Communications Specialist, Social Media: Marketing and Communications
This marketing and communications role will focus on the creation, organization and distribution of YVR content across all social channels. This term role, to September 2020, requires a strong understanding of YVR's voice and knowledge of all social media platforms is required (Facebook, Twitter, Instagram, LinkedIn, Hootsuite). This candidate will provide social media services for a variety of different airport departments and community partners, as well as develop strategic online advertising plans for Airport Authority initiatives to drive and support YVR's business objectives. It is expected that applicants have three to five years' recent, related experience in public relations, journalism or corporate communications, supplemented by an undergraduate degree or other post-secondary education; or an equivalent combination of education and experience. For more information on this position click here.
Customer Relations Representative: Operations
As a Customer Relations Representative, the successful candidate will be responsible for managing and overseeing the customer relations feedback process along with our VIP/special event/filming planning and coordination. This position entails efficiently responding to customer comment cards, emails, letters, social media responses, in-person communications and phone calls. Work will include overseeing programs/services including YVR Stars recognition program, accessibility services and family programs, including any necessary capital requests. We are looking for someone with a passion for the customer experience and related work experience in both customer relations and customer service, as well as a solid understanding of airport processes and services (e.g., US Customs and Immigration, Canada Customs, facility, airline industry, accessibility, and more). If this sounds like you, view more information here.
Safety Advisor: Human Resources
YVR has a proud history of having one of Canada's best health and safety cultures, and our Human Resources team is looking for a motivated individual to help maintain that excellence. A successful applicant to this position will have the responsibility of enhancing and continually improving the Airport Authority's health and safety management systems. Candidates should have experience developing and leading field health and safety management programs and be a team player with excellent communications skills. You are encouraged to apply if you have three to five years of recent related progressive experience (post-secondary degree or diploma in health and safety or a related field; or an equivalent combination of training and experience), Canadian Registered Safety Professional (CRSP), Certified Safety Professional (CSP), Certified Industrial Hygienist (CIH) or Registered Occupational Hygienist (ROH) designation (or suitable experience and education to attain one of the designations), and a valid driver's license. Click here for more information on this role.
Technical Analyst: Information Technology
Our Information Technology (IT) Department is looking for a new team member to join its ranks. The successful applicant will be tasked with technical design and scheduled maintenance related tasks during their term. Working full time, the new team member will support infrastructure, functionality and applications for mission-critical airport systems. Applicants are expected to have at least five years of recent and related experience with Microsoft and Linux IT system environments and be certified in Microsoft MCSE, MCITP or MCTS. This is a term opportunity until September 2019. For more information about this role click here.
Technical Specialist – Permits: Engineering Services
YVR is looking for a flexible and capable new face to join our Engineering Services Department. The successful candidate will direct and control the Facility Permit Program for future facility alterations and construction in accordance with all applicable Airport Authority regulations. Applicants are expected to have 5 years of recent, related experience and hold a two-or-three-year technical or community college certificate or diploma relevant to construction. Thorough knowledge of NAV CANADA and Transport Canada regulations pertaining to airport construction practices is an asset. This role is both fulfilling and dynamic, and like all Airport Authority positions, comes with opportunities to partake in health and fitness programs like yoga and boot camps. Click here to learn more about this position.