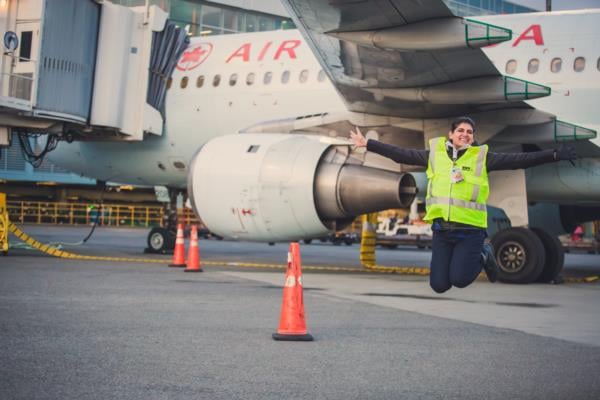 There's no better time than the present to find a career that's both challenging and rewarding. YVR was recently named one of B.C.'s Top Employers and one of Canada's Top Diversity Employers. We have over 30 positions available on our inclusive team and this month we're highlighting our top five.
Executive Assistant to the VP, IT and Chief Digital Officer
If you enjoy a diverse and inclusive workplace and a position with autonomy in their skill application, this position is for you. the Executive Assistant to the VP, IT and Chief Digital Officer will support the Vice-President, liaise with the Executive Team and be trusted to act independently with a high level of professionalism in their administrative work. Minimum 5 years of demonstrated administrative support at the executive level is required along with solid MS Skills. For information on this position, visit this link.
Technical Specialist, Permits
YVR is looking for a flexible and capable new face to join our Engineering Services Department. The successful candidate will direct and control the Facility Permit Program for future facility alterations and construction in accordance with all applicable Airport Authority regulations. Applicants are expected to have 5 years of recent, related experience and hold a two-or-three-year technical or community college certificate or diploma relevant to construction. Thorough knowledge of NAV CANADA and Transport Canada regulations pertaining to airport construction practices is an asset. This role is both fulfilling and dynamic, and like all Airport Authority positions course comes with opportunities to partake in health and fitness programs like yoga and boot camps. For more information on this position, click here.
Electrician — Maintenance Department
As a full-time member of the Maintenance Department and a part of a cross-functional team, the successful candidate will perform all aspects of preventative and corrective maintenance on various systems within the airport's buildings and assets. Key responsibilities include repairing and maintaining electrical and mechanical equipment. This role, like all YVR positions takes place in an exciting, dynamic and fast-paced work environment, with unique challenges and opportunities for advancement. More information can be found here.
Technical Analyst, Office Systems
Our IT department is looking for a new team member to perform technical design, support and plan maintenance tasks related to the airport's IT systems and services. The successful applicant will report to the Manager of Technology Services and work as a part of a team to support our infrastructure and service delivery for mission-critical airport systems. Microsoft MCSE, MCSE, MCITP and/or MCTC certifications are preferred, and at least 5 years of recent experience with supporting and delivering IT systems in Cisco environments is required. To view this position's listing in its entirety, visit this link.
Safety Advisor
YVR has a proud history of having one of Canada's best health and safety cultures, and our Human Resources team is looking for a motivated individual to help maintain that excellence. A successful applicant to this position will have the responsibility of enhancing and continually improving the Airport Authority's health and safely management systems. Candidates should have experience developing and leading field health and safety management programs and be a team player with excellent communications skills. To apply for this position or learn more, click here.
What are you waiting for? There's a reason why YVR is one of B.C.'s Top Employers. To apply to join our team and see all the positions which you may qualify for, visit yvr.ca/careers.