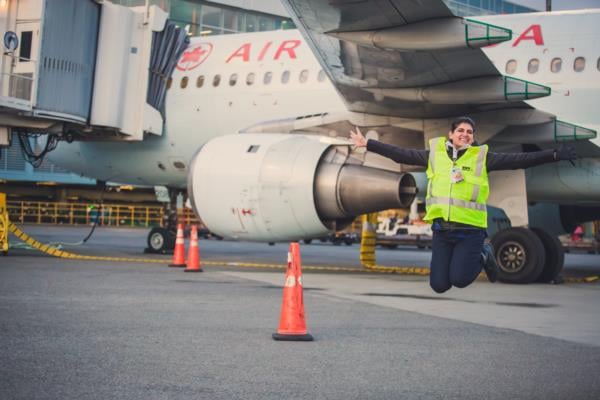 YVR is made up of a team of diverse people who are working collaboratively to reach our goal of 29 million passengers by 2020. Who we are is reflected in our employees. Our unique, community-based operating model has helped us grow into a powerful connecting hub and economic contributor—one that supports thousands of jobs, connects local companies with customers around the world and welcomes millions of visitors to our province every year. Safety is at the core of everything we do; we're innovative, fun, and we invest in our people. We're a BC Top Employer for 13 years standing, with high engagement scores, an abundance of learning and development opportunities, and a holistic approach to wellness! And we're looking for some new team members. Here are the Hot Job highlights for July 2019!
Project Engineer
This permanent, full-time opportunity for a Project Engineer entails reporting to the Manager of Airport Terminal Projects. As a Project Engineer, you will oversee the construction, commissioning and successful turnover of the airport's new Central Utilities Building. YVR's new utility building will house a state-of-the-art sustainable energy plant and power generation plant to support the Airport Terminal buildings. Some candidate qualifications include; A minimum of two years' recent, related experience supplemented by an undergraduate degree in commerce, sustainability (or a related discipline; or an equivalent combination of training and experience) and strong working knowledge of sustainability reporting under GRI, including the application of the standards in determining material aspects and indicators for reporting. If you are interested in learning more about this opportunity, click here.
Noise Information Officer
The Vancouver Airport Authority has a full-time, term opportunity (to May 2020) for a Noise Information Officer. Reporting to the Manager, Environment, and working with the Supervisor, Noise Abatement & Air Quality, the successful candidate is responsible for managing the noise complaint and noise information component of the Airport Authority's YVR Aeronautical Noise Management Program area. Do you like the sound of that? See more information about this role here.
Manager, Technology Services
Our IT department is enthusiastically looking for YVR's next Manager, Technology Services (with a focus on business intelligence (BI) and information security) in the Information Technology (IT) Department. Reporting to the Director, Technology Services (Digital), the successful candidate will lead a cross functional team to execute on the data vision and associated initiatives. This candidate ideally holds 7+ years' recent, related experience in managing complex business systems projects – requirements, analysis, design, development, testing, implementation and change management, supplemented by a Bachelor's Degree in Computer Science, Business Administration or a related field; or an equivalent combination of training and experience. Find more technical information about this role here.
Manager, Technical Services
Our IT department is looking for help! We are looking for a new Manager, Technology Services. The successful candidate will support the full life-cycle management of airport assets. Support including: second level technical support and problem solving for the maintenance team; development and input to technical standards and transition plans for capital projects; development of maintenance standards and practices, championing technical innovation for specialized airport systems and assets, leading investigation and lessons learned activities. If you're a tech wiz and looking for a new challenge, click
here
.
Legal Counsel
YVR's Legal Services Department is searching for its next, full-time Legal Counsel focusing on real estate and privacy. Reporting to the Director, Legal Services, the successful candidate will work closely with YVR's leasing and development teams to provide legal advice on their projects at the airport. The candidate ideally has at least three years of relevant experience at a corporate/commercial law firm or in-house legal department, is a member of Law Society of British Columbia in good standing and has experience in commercial leasing and general corporate law. Duties include drafting, reviewing and negotiating commercial contracts, including lease and license agreements. Also, reviewing, advising on and responding to privacy matters, including CCTV, privacy impact assessments, and privacy inquiries from both internal and external stakeholders. If you feel ready to stand up for this role, click here!
If these hot jobs aren't speaking to you, we currently have 10 other job openings. Find out if one if them is for you at yvr.ca/careers.