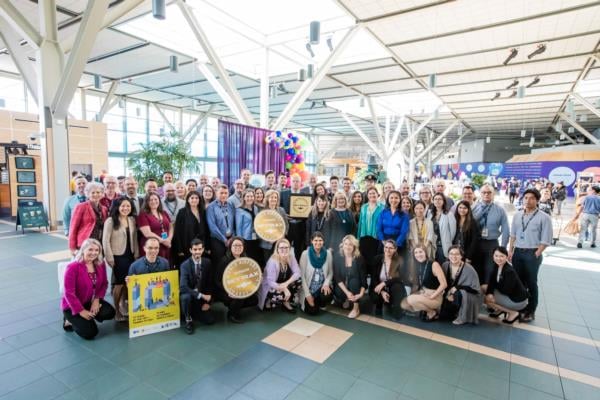 Spring is in full swing at YVR, and we're looking for motivated new team members to join us ahead of our busy summer season. This month, we're highlighting five of the more than 20 positions currently open at the best airport in North America.
Technical Analyst, Information Technology Department
Our Information Technology (IT) Department is looking for a new team member to join its ranks. The successful applicant will be tasked with technical design and scheduled maintenance related tasks during their term. Working full time, the new team member will support infrastructure, functionality and applications for mission-critical airport systems. Applicants are expected to have at least five years of recent and related experience with Microsoft and Linux IT system environments and be certified in Microsoft MCSE, MCITP or MCTS. For more information on this position, visit this link.
Technical Specialist – Permits, Engineering Services Department
YVR is looking for a new face to join our dynamic Engineering Services Department. The successful candidate will direct and control the Facility Permit Program for future facility alterations and construction in accordance with all applicable Airport Authority regulations. Applicants are expected to have five years of recent, related experience and hold a two-or-three-year technical or community college certificate or diploma relevant to construction. Thorough knowledge of NAV CANADA and Transport Canada regulations pertaining to airport construction practices is an asset. This role is both fulfilling and dynamic and, like all Airport Authority positions, comes with opportunities to partake in health and fitness programs like yoga and boot camps. For more information on this position, click here.
Senior Program Analyst (Term), Customer Care Department
As a full-time member of our Operations team, the successful applicant for this position will support operational decision making and program development and among other things play a lead role in Emergency Exercises. Experience in aviation and airport operations is an asset for those applying, as is experience with analysis of large data sets. To find out more about this role, visit this page.
Senior Technical Analyst, Innovative Travel Solutions (ITS)
Innovative Travel Solutions (ITS), a business unit within YVR, is looking for an enthusiastic and capable new team member. The new team member will support both the Operations and Development teams in the deployment and operation of program systems. ITS was recently named as a finalist in the PwC Vision to Reality Awards for their BorderXpress kiosk solution. Qualified applicants will have experience with relational databases and two-way SSL certificate configuration and have the flexibility to work on-call if needed. To learn more about this position, click here.
Millwright, Maintenance Department
Are you a Millwright who's looking for an innovative and fun workplace? Our Maintenance Department is looking for full-time millwrights to join their team. Successful candidates will perform preventative and corrective maintenance on various systems including passenger loading bridges, hydraulic systems and generator sets. Shift work is required for this position. This role includes benefits which come with every Airport Authority position including summer wellness programs, transit subsidies and volunteer work grants. For more info on this position, visit this link.
YVR is one of B.C.'s Top Employers, one of Canada's Top Diversity Employers and was recently named the Best Airport in North America for a record tenth year in a row. Take some time this upcoming long weekend to find your next dream job by visiting yvr.ca/careers.