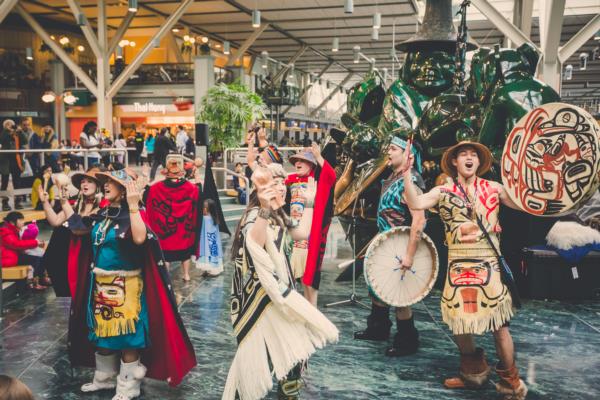 Looking to enjoy great B.C. entertainment this Wednesday? February 13th, YVR is proud to host artistic performances to kick off Full Circle's Talking Stick Festival, back for its 18th year in 2019.
From 12:00 p.m. to 1:30 p.m. stop by The Spirit of Haida Gwaii: The Jade Canoe to see free performances by Musqueam community members Tsatsu Stalqayu and Miss Christie Lee Charles, joined by Gillian Thomson and Spawkus Slulum.
Talking Stick Festival runs from February 19th to March 2nd and takes place at various venues located on the traditional, un-ceded territories of the Coast Salish peoples. The organization was founded in 1992 by interdisciplinary artist and Indigenous art leader Margo Kane and strives to create opportunities for Indigenous artists to showcase their talents and express themselves through their art.
YVR is proud to support Talking Stick Festival and embrace the traditions and culture of British Columbia's First Nations. The airport is home to one of largest collections of Northwest Coast native art and is proud to support the development and advancement of BC and Yukon First Nations artists through the YVR Art Foundation.
For more information about Talking Stick Festival, visit fullcircle.ca.