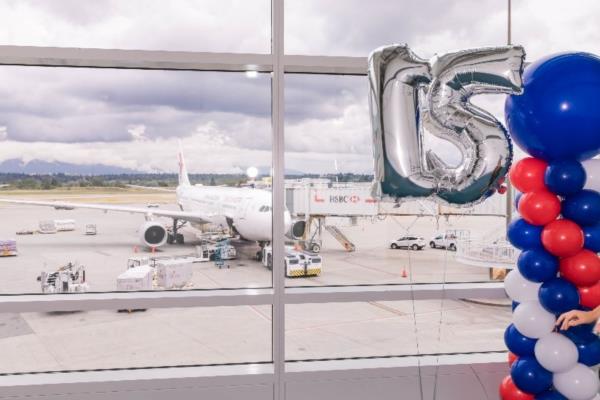 On Friday, June 28, China Eastern celebrated fifteen years of flying in and out of YVR.
In 2004, this Vancouver to Shanghai service flew thrice weekly aboard the Airbus A350-600, the world's largest commercial aircraft (at the time). In 2010, China Eastern Airlines expanded service to daily non-stop service on their Vancouver-Shanghai route. From 2013 to present day, service has doubled to two flights daily to Shanghai and Nanjing.
From their initial three flights per week to two flights per day, China Eastern has been a valuable partner at YVR. They are now transporting nearly 14 times more passengers to and from YVR and have gone from shipping less than 1 tonne of cargo per year to more than 8500 tonnes of cargo annually. China Eastern's direct connections from YVR to Shanghai and Nanjing, and the rest of their network, help support businesses succeed in transporting goods and people between China and Canada.
Globally, China Eastern has grown from 683 total destinations (86 international) in 2004 to 1,952 total destinations (227 international) in 2019, providing a strong network of flights from YVR across the globe.
Congrats to our friends at China Eastern Airlines!