It's incredible how much progress our team has made on YVR's future expansion. In just one year, we have gone from celebrating a ground-breaking ceremony to the recent steel-topping event for our international expansion, known as the Pier D project. And one year from now we will open it.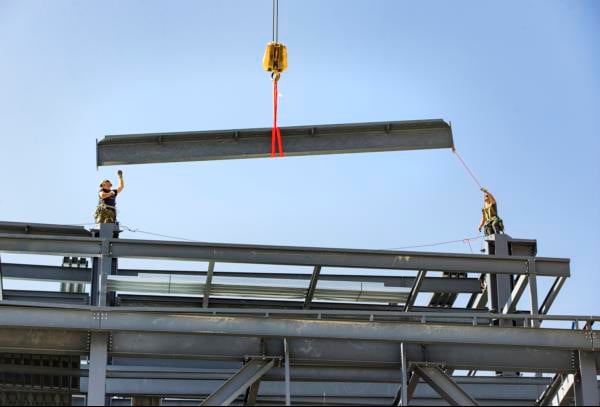 This pace of change may seem like the new norm at YVR, as we continue to experience record passenger growth while working on a 20-year expansion program that includes up to 75 projects worth billions of dollars. But it actually comes from a deeper commitment.
As a community-based, not-for-profit organization, YVR plays a unique role in our region. We have no shareholders and we are not government-owned. Instead, we are beholden to our communities, with a mandate to provide economic and social benefits for the region. To deliver on this mandate, we reinvest all profits back into airport, constantly improving it for everyone.
Pier D demonstrates just how committed we are to our passengers, partners and communities. The project continues to support hundreds of well-paying, local construction jobs, many of which are right here at the airport. It will provide an even better airport experience for our airline partners, with an additional eight wide body gates, including four bridged gates and four bussing gates. And it will be a great experience for passengers, with a wide selection of retail and food and beverage options and, to top it all off, an impressive indoor island art installation.
Pier D will make YVR a more attractive place for everyone—and a more competitive hub in an increasingly competitive landscape. Our airport has come a long way since opening in 1931 as a single runway operation. It's now a global connecting hub, competing with airports all over the world for passengers. And the more attractive we make YVR for everyone, the more competitive and sustainable we are as a business, providing connections to destinations all over the world and linking our region's people with global opportunities.
Pier D is just the start. We are also making great progress on our new parkade and ground transportation facility. We are busy working on building one of Canada's largest GeoExchange systems, which will provide sustainable energy for the entire terminal complex. And we are continuing to deliver an exceptional airport experience, with a range of new food and beverage and retail offerings coming in the next year, as well as constant improvements for the passenger experience.
All of this growth and progress is thanks to our unique operating model, which ensures YVR remains your airport—a community contributor, economic driver and leader in sustainability.
For more information on how YVR benefits you, visit youryvr.ca.