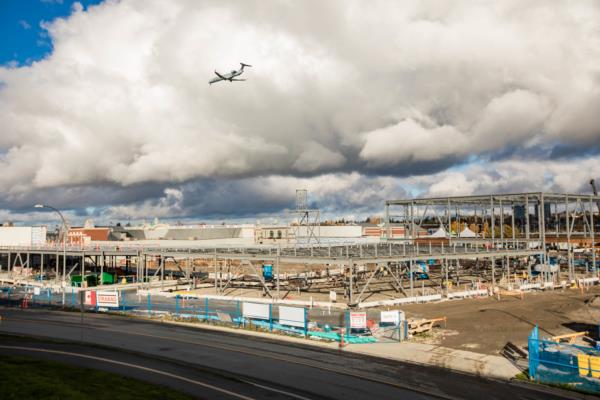 If you've been to YVR this January, you'll notice that it hasn't slowed down much since the holiday rush. After all, we welcomed a record 25.9 million passengers in 2018 and we are set to continue this pace for 2019—with a goal to reach 29 million by 2020.
While passenger growth brings many benefits, including economic growth for our region, it also has very real implications for our terminal, which is nearing its capacity limits. To address this "good problem," we embarked on an ambitious $9.1 billion expansion program in 2018, which will see 75 projects completed over 20 years. Several of these projects are now well underway.
In fact, you can't help but notice them. That large open space with lots of machinery near the parkade—that will soon be the home of a second parkade and a central utilities building, set to be operational in 2021. And underneath both of these buildings will be a new GeoExchange field, one of the largest in Canada, in charge of heating and cooling our main terminal building.
We will soon launch a new jetSet parking product. The approach for this new product is very efficient: you pull up, an employee parks your vehicle, and you get on a shuttle for the airport—saving time and taking the stress of having to park out of your journey.
Inside the terminal, we have a number of offerings set to launch in 2019. This includes new food and beverage choices, which we will unveil soon. In addition, we are working on a number of terminal improvements—from baggage to check-in areas and more.
You also may have noticed a building forming at the end of our international "D" pier. This is our largest terminal expansion since 1996 and, when complete in 2020, it will offer new gates and amenities—as well as a new central west coast island feature. We'll have more information on this expansion soon, so stay tuned!
During this busy year, we will strive to minimize disruptions while delivering an efficient and comfortable airport for everyone. This is a big task, but our team is up for the challenge. So I would like to thank you, in advance, for your ongoing support. We look forward to another great year as B.C.'s airport—full of people, projects and success.