YVR is proud to connect people, communities and cultures. We value our cultural heritage in B.C. and are pleased to share this with the world every day through housing one of the largest private collections of Northwest Coast Indigenous art.
YVR is a community-based, not-for-profit organization, which provides us with an operating model that allows us to support organizations that make a difference in our community. Each year, we donate more than one million dollars to community organizations. By supporting YVR Art Foundation through our Community Investment program, we are able to support and inspire indigenous artists from all over B.C. and the Yukon to explore and refine their craft.
Founded in 1993 by Vancouver International Airport, the Art Foundation aims to support B.C. and Yukon Indigenous artists in their artistic goals through mentorships, education, and community projects. To date, the YVR Art Foundation has awarded more than 145 scholarships and grants to B.C. and Yukon Indigenous artists, and more than 80 artworks created by scholarship recipients have been exhibited throughout the airport.
On May 31st, we were thrilled to host the Art Foundation's annual celebration in the Graham Clarke Atrium where artworks from the 2018 Emerging and Mid-Career scholarship recipients were displayed. Family members, friends, sponsors, and donors listened as the artists shared the inspiration behind their creations using different materials, techniques, and forms.
The 2018 Youth Art Scholarship Recipients are:
Emma Frank, K'omoks, Namgis, Eh-ChoDene
Sage Nowak, Tahltan, Vuntut Gwitchin
Sesyaz Saunders, Nuxalk
Yvonne Starr, Gitxsan
Cora-Leigh Stelmaschuk, Tsimshian
Veronica Rose Waechter, Gitxsan
Skil Jaadee White, Haida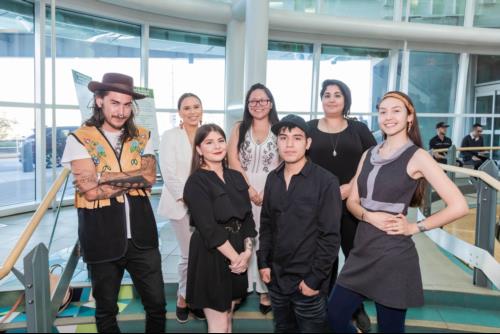 The 2018 Mid-Career Artist Scholarship Recipients are:
Roxanne Charles, Semiahmoo First Nation
Meghann O'Brien, Haida, Kwakwaka'wakw
Marika Swan, Tla-o-qui-aht First Nation
Awards for the 2019 Emerging Artist and Mid-Career Scholarships were also given out. Individuals receiving the Emerging Artist Scholarship award will have the opportunity to work with a master artist in a specific medium or receive support to attend a recognized school of art. The Mid-Career Scholarship award enables individuals to advance their art career. Furthermore, the programs provide recipients exposure to the art community, contacts, artistic inspiration, and ongoing support, not only during the award year, but in the years to come.
The 2019 Emerging Artist Scholarship Recipients are:
Stephanie Anderson, Wet'suwet'en
Marlo Wylie Brillon, Haida/Cree
Reuben Mack, Nuxalk
Skilaaw, Haida
Atheana Picha, Kwantlen
Teresa Vander Meer-Chasse, White River First Nation
Joshua Watts, Nuu-chah-nulth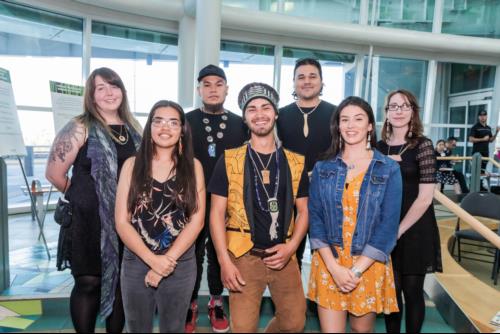 The 2019 Mid-Career Scholarship Recipients are:
Morgan Asoyuf, Tsimshian
Kelly Robinson, Nuxalk/Nuu-chah-nulth
Nathan Wilson, Haisla
We are proud to support the incredible work YVR Art Foundation does to support the development and advancement of B.C. and Yukon Indigenous artists. Keep an eye out for these artists works throughout our terminal when you travel.
Congratulations to each of the talented artists and scholarship recipients!