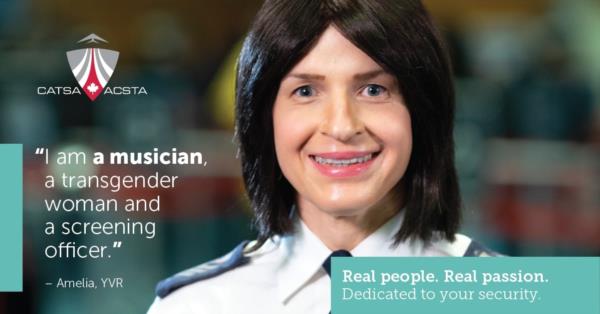 YVR relies on many incredible partnerships to maintain the operations that make us the best airport in North America year after year. Over 24,000 people work on Sea Island and that includes our partners at the Canadian Air Transport Security Authority (CATSA). CATSA has recently featured some of YVR's very own in its Real People Series which sheds light on the security screening agents travellers often see but hardly ever get the chance to know.
This series features screening agents from across Canada, including six of YVR's valued agents who work day in day out to keep travellers and their luggage safe while on the move. Among those featured are Francesca, a YVR screening agent who is a trilingual fashion designer and Amelia, a transgender woman and singer/songwriter.
CATSA's Real People series was launched on April 30 at both YVR and Halifax Stanfield International Airport (YHZ) simultaneously, however the Real People series features screening agents at each of Canada's eight busiest airports. This series strives to highlight real people, with real passion, who are dedicated to your security. It will run for an entire year, featuring new Canadian agents every two months. Each agent will be featured on larger than life banners in the airport terminals as well as videos posted online via social media. Be sure to check the CATSA website to learn more about the screening agents that help get you on your way.