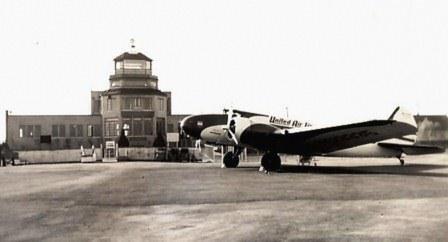 A Boeing 247D United aircraft in front of the YVR Tower in 1939.
100 years ago on this date, aviation history was made in Vancouver. On March 3, 1919, William Boeing, founder of the Boeing company, and pilot Eddie Hubbard made the first international airmail delivery flight aboard a Boeing C-700 sea plane. The flight took off from Vancouver to deliver 60 letters to Seattle. This marked the beginning of a historically significant relationship between YVR and the Boeing Company. Currently, there are over 250 movements by a Boeing aircraft through our airport on a typical day. Boeing's marked and continued success in revolutionizing the air travel industry has played a significant role in helping YVR connect British Columbia proudly to the world.
In the 1930's, Boeing's was central to YVR's development as a new airport on Sea Island. On July 3, 1934, United Airlines began service from Vancouver to Seattle using a 10-passenger Boeing 247 that also carried mail and cargo. Boeing's presence on Sea Island would only continue through the 1940's with Canada's increasing involvement in the Second World War. The company built a manufacturing plant on Sea Island in 1939, initially employing 175 people. The plant most notably produced PBY Catalina flying boats and amphibians. Along with 362 of these PBY "Cansos", the plant also built 16 Blackburn Shark torpedo aircraft and the mid-sections for the Superfortress B-29 Bombers for the Royal Canadian Air Force. At its peak in 1945, Boeing Aircraft of Canada had 7,000 employees but closed immediately following the war's end on August 14, 1945. Many of the employees during this time were women who picked up the slack as many men went to war. Symbolized by the popular wartime icon, these women were well-known and affectionately called 'Rosie Riveters.'
To accommodate the workers, the Canadian government constructed a 328-house community on Sea Island named after Stanley Burke, the president of the Boeing plant. Following the war, this community housed many returning veterans, with a priority on selling to families with multiple children. Today, Burkeville remains the only residential area on Sea Island. The community is considered a heritage area and offers a glimpse of aviation history, with streets named after key industry icons.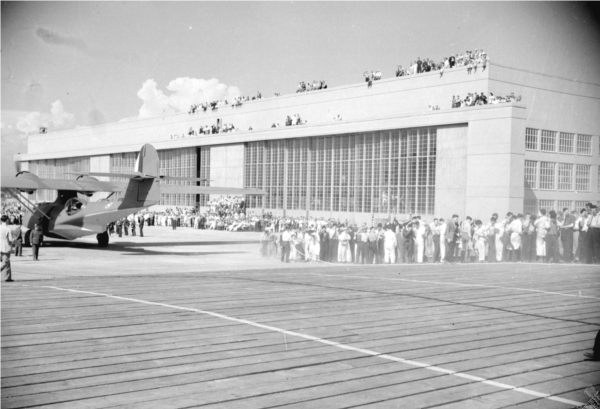 On July 27, 1942, Vancouver Airport and Boeing Airplane Co. held a special event to mark the launch of the first PBY Catalina produced by the Sea Island Boeing Plant.
Boeing would be a part of YVR history again in November 1996, when its new Boeing 777 was the first to land on YVR's brand new 3,030-meter north runway. The 777 and other popular Boeing aircraft such as the 747, and Dreamliner 787 continue to serve routes to and from YVR. A keen plane spotter is sure to see many of these planes in our local airspace, adorned with the logos of countless international and local airlines.
Throughout the airport's history, Boeing's prevalence as an aviation industry leader has helped YVR develop into an international travel hub and an economic generator for British Columbia. Congratulations to the Boeing Company on your Canadian centennial anniversary!