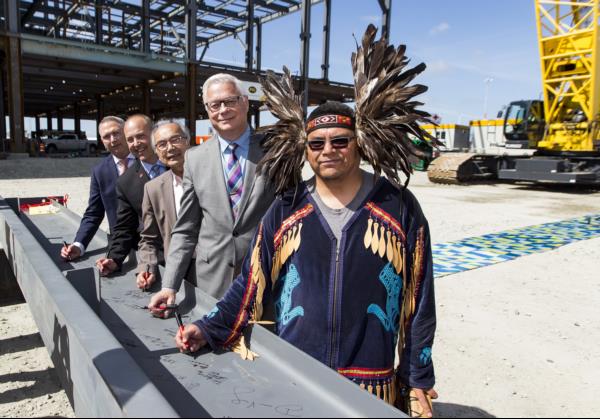 Today YVR celebrated a major milestone with a steel topping ceremony for the expansion of the airport's International Terminal Building, known as Pier D. The ceremony marked the completion of the structural phase of the building, which remains on schedule to open in 2020.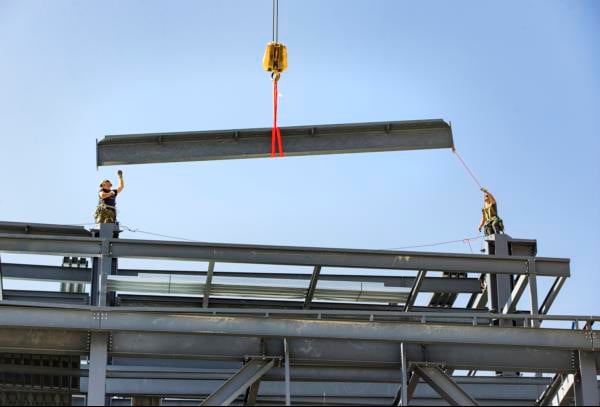 The expansion will continue with YVR's well-known sense of place. Passengers will experience the beauty of B.C. with a glassed-in nature feature made up of three western hemlock (tsuga heterophylla) trees and will include a range of new amenities such as a digital experience, a next-generation pet relief area, energy-saving devices, new food and beverage options and much more.
Once complete, the expanded terminal will include an additional eight wide body gates, including four bridged gates and four remote stand operation (RSO) gates. The added gates will enable the airport to support large aircraft including the A380 which has a wingspan of 260 feet. This expansion will help YVR meet growing passenger demand, having welcomed a record 25.9 million passengers in 2018, better connecting British Columbians and local businesses to the world, while improving the airport experience.
The Pier D expansion incorporates approximately 9,000 steel members, weighing over 4.5 million kilograms.
YVR's multi-year expansion plans are made possible due to YVR's unique operating structure. YVR receives no government funding and all profits generated are reinvested back into the airport for the benefit of its customers, partners and communities.