Fifty years ago tomorrow, Boeing's revolutionary 747 made its first flight from Everett, Washington. On this historic test flight, the plane christened "City of Everett" commenced a legacy of excellence for the 747.
Even before the plane entered commercial service, it made headlines as the first ever wide-body commercial airliner. Due to the increasing use of commercial jet transportation for long-distance travel, air traffic grew rapidly in the 1960's. To combat this, Pan Am Airways requested that Boeing double the capacity of the 707, their largest passenger aircraft at the time. Taking inspiration from a US Air Force initiative to create a plane that can carry oversized cargo, Boeing created the 747, a passenger aircraft that could easily be converted to carry freight. To accommodate for a freight-loading door on the plane's nose, the cockpit was placed on a shortened upper deck. This design resulted in the 747's signature hump along the forward part of the plane, helping it become one of the most recognizable aircraft in the world.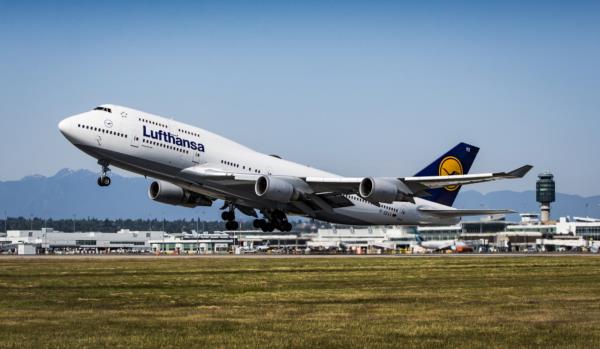 The plane sports four wing-mounted engines. A high sweep angle of 37.5 degrees on these wings allows for a fast, efficient cruise and reduces the 747's wingspan, allowing the jumbo jet to use existing hangars. With a nearly 60 m wingspan, a height of a six-storey building and a length of nearly 70 m, there were major concerns that airports would not be able to accommodate the plane. Despite these concerns, the 747 had a reasonably smooth introduction to commercial service.
On January 22, 1970, nearly a year after its first test flight, Boeing 747-100 entered commercial service with Pan Am. With its first commercial flight, the 747 broke the passenger capacity record, a feat that would remain unbeaten for 37 years. Shortly after, Lufthansa adopted the model, becoming the second airline to do so. Today, Lufthansa continues to use the historic 747-400 (often referred to as 744), including on routes to and from YVR. Qantas Airways also uses the 747 at YVR on their seasonal routes to and from Sydney.
Boeing has delivered over 1,500 747s since 1970, with nearly 500 still in service. While demand for massive four-engine passenger planes like the 747 or rival Airbus' A380 has slowed, Boeing has worked to secure demand for the jumbo jet as a dedicated freighter aircraft. 747 sales going forward will likely be linked to cargo carriers like UPS, and VIP or military aircraft such as Air Force One. Although passenger airlines are on the lookout for smaller, more efficient alternatives, Boeing's 'Queen of the Skies' has already cemented its place in passenger aircraft history over the past 50 years.