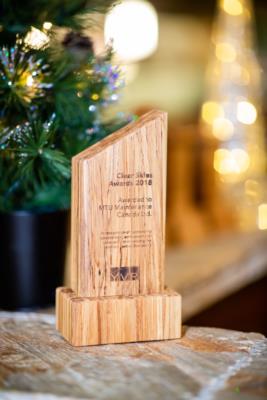 Calling all sustainable Sea Island businesses! Vancouver Airport Authority is currently accepting nominations for the 2019 YVR Green Excellence Award.
What is the YVR Green Excellence Award?
Vancouver Airport Authority strives to be a leader in environmental management and actively seeks to improve our environmental performance. Achieving this vision would not be possible without the active participation of our community partners and fellow Sea Island businesses. Formerly known as the Clear Skies Award, the YVR Green Excellence Award has recognized the remarkable environmental efforts made by Sea Island organizations since 2011.
Eligibility and nomination
The YVR Green Excellence Award recognizes organizations that have demonstrated stewardship over the last 3 years in one or many of the following areas:
saving energy and/or fuel,

reducing waste,

conserving potable water,

improving ecosystem health on Sea Island, and

supporting employees and engaging customers/partners on environmental issues.
If this describes your organization, or if you know of another organization that deserves recognition for their green efforts – please complete the online nomination form here (it should take no more than 5 minutes) by November 8th, 2019.
Past recipients
In 2018, MTU Maintenance and World Duty Free were the recipients of the YVR Green Excellence Award. MTU Maintenance was recognized for their expanded recycling program, installation of energy-efficient LED lighting, participation in Climate Smart training and use of water-efficient rinse heads for aircraft cleaning. World Duty Free received the award thanks to their improved paper and single-use item recycling, use of LED lights and their active employee green committee who participate annually in YVR's Climate Smart training program.