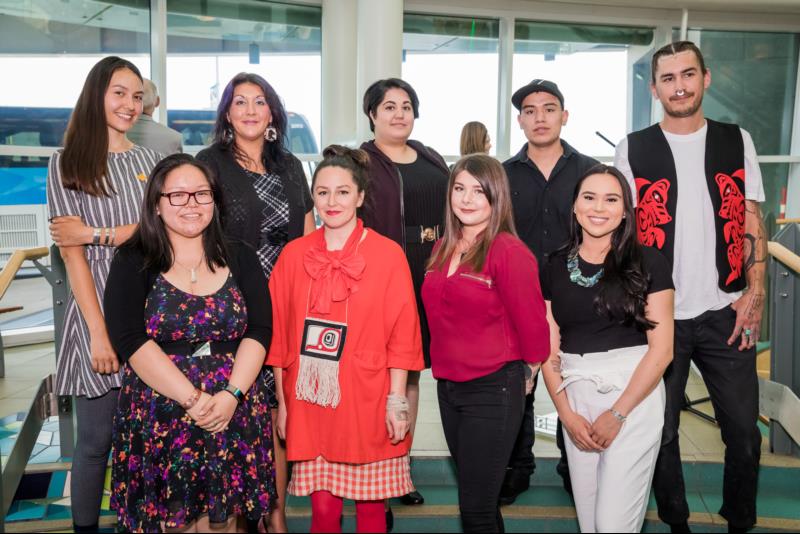 YVR Art Foundation recently announced the 10 BC and Yukon Indigenous recipients of the 2018 YVR Art Foundation scholarship awards. The recipients were recognized at the annual YVRAF awards event, which also included the unveiling of the 2017 scholarship recipients' art work at Vancouver International Airport on May 25, 2018.
YVRAF art scholarships are awarded annually to artists of British Columbia and Yukon Indigenous ancestry in two categories: Youth (under age 27) and Mid-Career (ages 27 and up). The recipients will receive a $5,000 scholarship to attend a formal art institution or study with an artist mentor over the course of one year. Mid-Career recipients will work with a master artist, attend an art institution or undertake a special project that is of cultural significance to their community. At the end of their scholarship year, recipients are invited back to Vancouver to display their artwork at the awards event, followed by an exhibition of their work at YVR for one year.
The recipients of the 2018 YVR Art Foundation Youth Art Scholarships are:
Emma Frank, age 23, K'omoks, Namgis, Eh-ChoDene, from Comox

Sage Nowak, age 25,

Tahltan/Vuntut Gwitchin,

from Whitehorse

Sesyaz Saunders, age 20, Nuxalk, from Bella Coola

Yvonne Starr, age 24, Gitxsan, from Delta

Cora Leigh-Stelmaschuk, age 25, Tsimshian, from Terrace

Veronica Rose Waechter, age 22, Gitxsan, from Vancouver

Skil Jaadee White, age 22, Haida, from Masset
The recipients of the 2018 YVR Art Foundation Mid-Career Artist Scholarships are:
Roxanne Charles, Semiahmoo First Nation, from Surrey

Meghann O'Brien, Haida, Kwakwaka'wakw from Prince Rupert

Marika Swan, Tla-o-qui-aht First Nation, from Ty-Histanis
Since 2005, YVR Art Foundation has awarded over 100 scholarships, grants and awards totaling more than $400,000 to BC and Yukon Indigenous artists.
About the YVR Art Foundation
YVR Art Foundation (YVRAF) is a not-for-profit, charitable organization that supports the development and advancement of BC and Yukon Indigenous art and artists by providing scholarships, grants and exhibition opportunities. YVR Art Foundation is funded through generous support from Vancouver Airport Authority and from individual donors, foundations corporate donors. For more information about the YVR Art Foundation, visit www.yvraf.com.