If you've recently travelled through YVR, you may have noticed the lack of traditional 'garbage cans'. Instead, our terminals are lined with bins intended to sort waste into recyclable categories. Our Environmental Management Plan, which provides the framework for our environmental initiatives, outlines our goal of diverting 50% of YVR waste from landfill. Last year, we surpassed this target three years ahead of schedule, achieving 51% waste diversion.
One of the initiatives which helped us achieve our goal is the annual "Waste Wars" competition. Held every year since 2015, Waste Wars pit our tenants against each other in a bit of friendly competition to see who can best separate their waste. The rules are simple: organic waste belongs in the green bin; plastics, paper and metals in the recycle bins and the remaining in the garbage. Every week, tenants' bins are inspected and allocated points based on the level of appropriate separation. The better tenants separate their waste, the more points they score, and the highest score wins.
The winners of the 4th annual Waste Wars competition displayed exceptional commitment to waste reduction and are now the exclusive holders of the Waste Wars crown. In the Restaurant Category, [email protected] (Fairmont Vancouver Airport) took the title, and in the Quick Service category, Thai Hang wound up the champions. Thai Hang's triumph was especially notable for the fact that they achieved a perfect score, having not a single cup, straw or napkin out of place!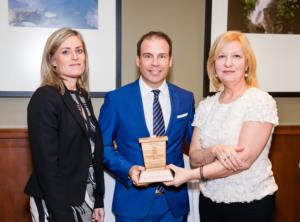 Fairmont Vancouver Airport collecting their award for [email protected] from Marion Town, Director of Environment at YVR.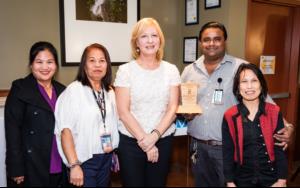 Members of the team from Thai Hang collecting their Waste Wars award from Marion Town.
On behalf of Vancouver Airport Authority, we'd like to thank and recognize all of our tenants for their commitment to reducing waste and look forward to next year's competition.