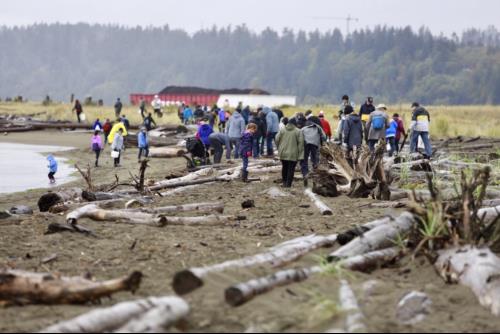 This past weekend, YVR was proud to be part of International Coastal Cleanup Day. Although it was a very rainy Saturday afternoon, over 300 volunteers, including the Minister of Environment and Climate Change, Catherine McKenna, came out in full force to Iona Beach Regional Park in Richmond to help take care of our local coastline, one piece of trash at a time.
Everything from coffee cups, cigarette butts, and even an old sneaker, were found and picked up thanks to everybody's hard work. Within a few hours, 205 kilograms of trash were diverted from our shorelines and disposed of properly. Many hands make light work!
Participants stayed warm in classic Vancouver fall weather with free coffee and hot chocolate, and our live DJ kept spirits high as volunteers scoured the beach and contributed to the over 2,600 kilometers of shoreline cleaned across the country this year, picking up waste that does not belong on our shores.
This special event was a collaborative conservation effort with Ocean Wise, an initiative of the Vancouver Aquarium and World Wildlife Fund Canada (WWF). YVR is proud to be one of over 1,500 shoreline cleanups that have occurred in 2018 alone, all with the hope of doing our part in leaving our planet better then we found it.
At the end of the afternoon, all volunteers had the opportunity to win two free flights from YVR to anywhere Air Canada flies within Canada. What better way to appreciate the efforts of keeping our planet clean than to get out there and see it!
Thank you to everyone who came out and participated in this event. We would especially like to thank Parks Canada, Metro Vancouver, Ocean Wise and WWF for helping make this day possible.