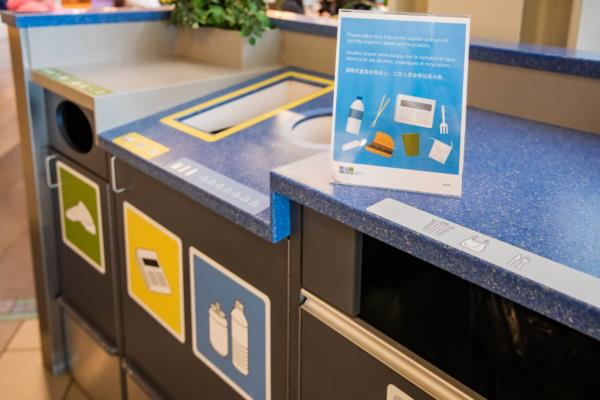 At YVR, we work hard to lead our industry with innovative environmental programs. And in order to ensure we not only meet but exceed regulations in place, we have four strategic priorities that guide our decision-making process: reduce greenhouse gas emissions (GHG), reduce waste, reduce potable water consumption and improve ecosystem health.
Looking back to 2017, we made significant strides toward our 2020 targets. And thanks to a range of programs, initiatives and partners, we're well on our way. Let's take a look at some of our targets and how we're tracking.
When calculating our 2020 greenhouse gas emissions (GHG) target and our annual results, we measure, monitor and review emissions under two categories: direct emissions from YVR controlled activities and indirect emissions from the purchase of electricity for our operations. In 2017, our GHG emissions from both these categories decreased 3% from the 2012 baseline level. Did you know that since we launched our energy conservation efforts in 1999, we've saved more than $17 million in electric and gas costs?
In 2017, we recycled and composted 2.3 of 4.5 million kilograms of domestic and international terminal building waste. This resulted in a 51% diversion rate (1% over the 2020 target). Did you know that from the 233,871 chopsticks we collected last year, 708 kg of waste was diverted from landfill? Want to learn more? Today's #YVR25Million partner is ChopValue. ChopValue takes our recycled chopsticks and converts them into high-performance material used for designs, products and more.
YVR has a goal to reduce potable water consumption 30% from 2012 levels by 2020. Under our Environmental Management Plan, we started a range of initiatives that significantly reduce out potable consumption from 2012 to 2017. We forecast water reductions of approximately 25% by 2020. Did you know that while we grew by almost two million new passengers in 2017, our potable water consumption per passenger stayed the same—51 litres?
To improve ecosystem health, we've set a clear target that strives for zero water samples with glycol concentration about the Canadian Glycol Guideline level of 100 mg/L. Did you know that YVR is the first airport in the world to become salmon-safe certified?
Be sure to stop by the Spirit of Haida Gwaii: The Jade Canoe (across from the international food court) from 10 a.m. to 12 p.m. to win some great prizes or head to Instagram for a chance to win a furniture and décor prize pack. In addition, if you stop by ChopValue's Granville Island pop up store (open until December 24), shoppers will receive 10% off when using the magic phrase: YVR welcomed 25 million passengers.