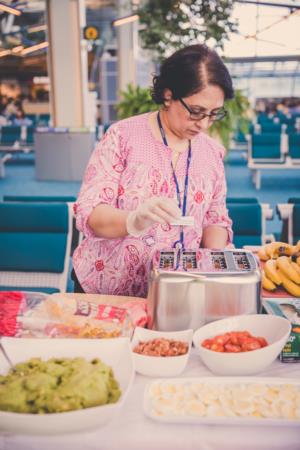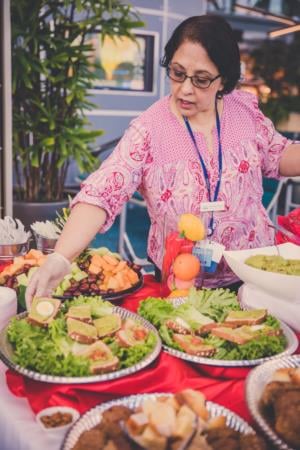 It's the people who work here that make YVR special. One of those incredible people who Go Beyond, Every Day to make YVR an incredible place to be is Narinder Pahal. Narinder is about to celebrate her 30th anniversary of work at YVR (mostly with our partners at HMSHost) and she has seen it all. From terminal expansion to massive passenger growth, Narinder has been there every step of the way, and helped feed us all delicious food for the last 30 years!
YVR: Tell us the beginning of your YVR story
Narinder: I started working for Cara Operations on 28th July 1988 at YVR - I had worked for Cara at the Canada Place during Expo 86 and that event pretty much put Vancouver on the map. Traffic at the airport really increased and opportunities at YVR were expanding - Vancouver became a place to visit.
YVR: What was your first job at YVR?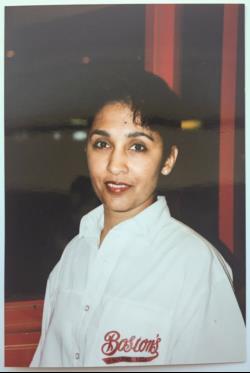 Narinder: I started off as a Cashier/Server, serving ice cream/popcorn/coffee in a small unit on Level 2 of the Domestic Terminal Building (DTB) – which at that time was check in for US flights and Domestic Arrivals. Then Level 2 DTB was restructured – Harvey's and Boston Pizza opened and I was promoted to Supervisor at BP. In 1998 I was given the opportunity to be part of the first Tim Hortons at YVR on Level 3 DTB. Along the way this became 6 locations and I was made Operations Manager!
Along the way I have also touched on White Spot and Starbucks – at present I am a Multi-Unit Operations Manager and Catering Specialist at HMSHost – it involves overseeing Tim Hortons, Burger King and Production Kitchen; as well as developing menus and creative ideas for special events within the Airport (where Narinder shines for Vancouver Airport Authority).
YVR: What do you like most about working at YVR? What has kept you coming back for 30 years!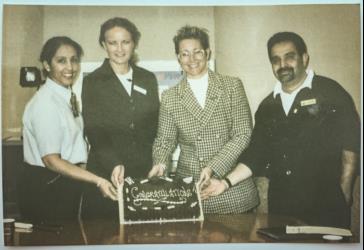 Narinder: I love being part of the Airport environment – it's like being part of a mini city that is ON 24/7! I enjoy the people interaction, the fact that no one day is the same – it's very unpredictable and you have to be ready for anything in this building.
YVR: What are your most cherished memories of the last 30 years?
Narinder: For myself the memories I cherish the most are mostly to do with people that I have connected with along the way. I was lucky enough to meet people who saw potential in me and gave me opportunities that perhaps I would have otherwise overlooked. And witnessing the growth at YVR has been amazing, it really seems like not too long ago the ITB terminal was built! And now to see the future plans for growth it is very exciting.
YVR: How has the airport changed in the past 30 years?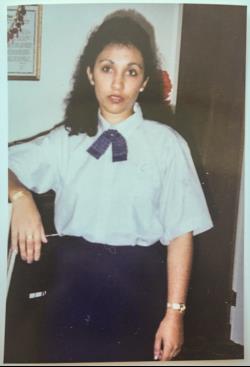 Narinder: Myself and many others that have been part of this environment for a long period of time have witnessed how YVR has become a building not only for the needs of travellers but also a community-based operation that has shown how important not only serving but connecting with people can be – it has become more about creating the experience to remember! The services offered within YVR have developed on so many levels, I know at HMSHost we also strive to come up with new innovative menu ideas to provide guests with something exceptional. Food and beverage standards have developed to higher expectations; we are now engineering more in-house recipes, cooking with higher quality products and focusing more on presentation. Customer Service has aligned with Hospitality – again to create more of a memorable experience for our guests.
What inspires you to keep working at YVR?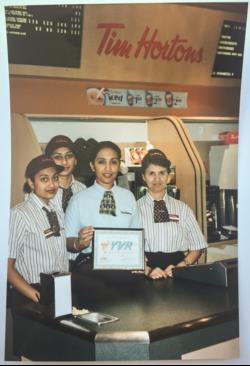 Narinder: One of the main reasons I'm inspired to be part of YVR and HMSHost is the prospect of opportunities!! 35 years ago I came from England with a Clerical Diploma and hopes that I would be working as an office assistant – little did I know that the people I would meet along the way would set me up in a whole different direction. I was fortunate enough to meet people in Cara and Host that saw potential in me, they helped me grow, learn and find my talents. A lot of those people have become my second family, their support and dedication to unwavering - I may not have gone where I intended to go, but I think I have ended up where I was meant to be - I am honored to be part of such a hard-working team that are up for any challenge!
What do you like to do away from YVR?
Narinder: When I'm not at YVR I'm usually still thinking about it! This may sound a little crazy I know but my creative juices are always thinking of the next event or opportunity and how we can make it extra special. None of this can be possible without family support – my "NoriNation" are always supportive and there for me (even though they are sometimes confused on what my job really entails J). I love travelling, going swimming and having "Me Time" at home – which usually consists of Netflix or my next creative project! There is a quote of Albert Einstein that I love: "Strive not to be a Success but of Value", I strive to bring a little value to everything I do, it makes what you do much more enjoyable and worthwhile.
YVR: You are involved with so much of the food at YVR, what do you like to eat?
Narinder: Anything that is Gluten Free and still tastes amazing, not easy to find!!!