Each year, YVR recognizes tenants that demonstrate an outstanding commitment, innovation and enthusiasm to improving the environment on Sea Island. Since 2011, businesses on Sea Island have been recognized with the Clear Skies Award for everything from reducing gas emissions to improving waste diversion and energy efficiency.
We are pleased to announce that MTU Maintenance and World Duty Free have received this year's Clear Skies Award in the airside/groundside and in-terminal categories, respectively.
MTU Maintenance was recognized for their expanded recycling program, installation of energy-efficient LED lighting, participation in Climate Smart training and use of water-efficient rinse heads for aircraft cleaning. World Duty Free received this year's award thanks to their improved paper and single-use item recycling, use of LED lights and their active employee green committee who participate annually in YVR's Climate Smart training program. Congratulations MTU Maintenance and World Duty Free!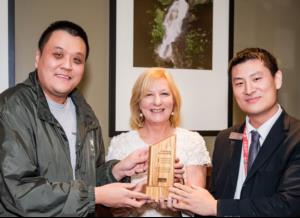 Tony Zhai and Aaron Cheung accepted the award on behalf of World Duty Free. Seen here with Marion Town, Director of Environment at YVR.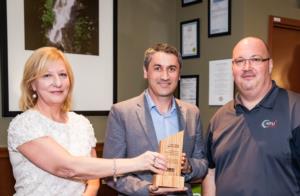 Cristofor Ursache and George Topic accepted the award on behalf of MTU Maintenance.
We would also like to acknowledge the organizations that received honorable mentions – Aero Mag 2010 YVR Inc., Air Canada, Gate Gourmet and Swissport Canada Inc. in the airside/groundside category and Glidepath Systems Ltd. and SSP Canada in the in-terminal category. Thank you to the entire Sea Island community for your continued support and commitment to being environmentally responsible. Together, we are living up to our reputation as an industry leader in sustainability.