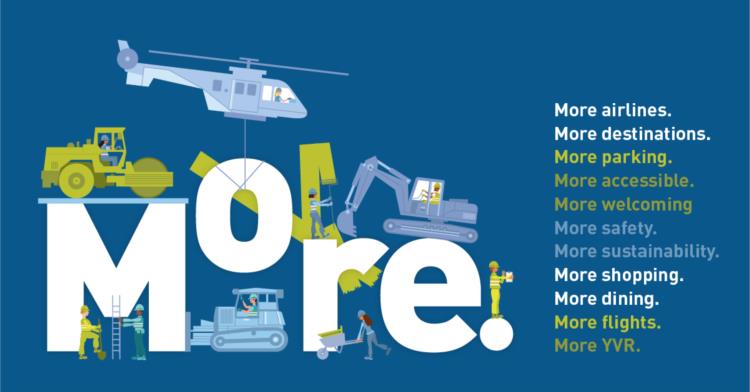 You may have noticed some new creative around YVR and on our social media channels lately. The message is quite clear: there is going to be more of everything at YVR. We are experiencing incredible growth and we have a large range of new projects to meet the demands of our passengers, partners and communities.
We welcomed almost two million more passengers last year and we expect this pace to continue. To accommodate the growth in vehicle traffic, we will soon have more parking options. We will open our new Value Long-Term parking lot, located at the Templeton Skytrain Station, on March 1. This new product will offer our customers another great option for hourly, daily and weekly parking, with the added convenience of online booking.
In addition, we have started work on a new Parkade, which will not only offer more parking capacity, but will include many accessibility and sustainability features such as guided parking and a rainwater harvesting system. See our parking page for information on YVR's many parking options.
We're also getting more terminal space. Our team has started preliminary work on our international terminal expansion, which will include four new aircraft gates. This expansion will also include four additional gates for our new bussing operations. After a successful trial last summer, we are moving ahead with passenger bussing—just like you see at many of the world's top international airports. It's comfortable, efficient and we plan on making it a top-notch product.
And that's not all—there's much more. We are planning an extension of our east apron for bussing operations. We are looking into a new jetSet valet parking product. We are getting ready to start building Runway End Safety Areas on our North Runway. And we are undertaking a large range of upgrades and maintenance throughout the terminal.
This growth is a great thing for our airport, our community and our province. As a not-for-profit organization, we provide direct benefits for the region—through jobs, tourism and much more. Our continual growth requires big changes at the airport and I understand that, at times, this causes disruptions. I encourage you to visit our Construction Updates page regularly for the latest information and I want to thank you for your patience and support. We are embarking on an exciting period in our history and look forward to delivering an even better airport experience in the months ahead. More to come . . .